Tuskegee Airmen: Journey to Flight
February 7-August 5, 2012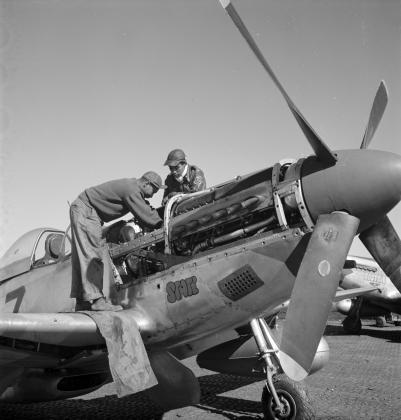 "Tuskegee Airmen: Journey to Flight" celebrates the gallant African American men and women who broke barriers as both aviation heroes of WWII, as well as champions of equality.
Although well-known for their heroic military battles during WWII, the Tuskegee Airmen are often overlooked for their significant achievements in the fight against discrimination. Through personal stories and experiences, this exhibit reveals how these courageous men and women not only fought for Allied victory abroad, but also fought for equality on the home front as an early chapter of civil rights history. Artifacts on display include aircraft and military memorabilia, along with original letters, journals and other personal mementos.
Developed by the California African American Museum in association with The California Museum, the exhibit is presented by the California Legislative Black Caucus to commemorate Black History Month.