Get On Board: Stories of the Los Angeles to Houston Freedom Ride
February 5, 2011 through May 29, 2011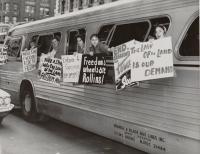 "Get On Board: Stories of the Los Angeles to Houston Freedom Ride" recounts the seldom-heard story of CORE's (Congress of Racial Equality) freedom ride from Los Angeles, California, to Houston, Texas, in August of 1961. Commemorating the 50th anniversary of the freedom rides, this exhibit underscores the ambitious optimism that inspired 11 Californians — both black and white, men and women — to leave their schools, families and homes to get on board a train for a ride to secure freedom and liberty for all Americans during the Civil Rights Movement. 
Inspired by Houston's Union Station, the exhibit features a U-shaped lunch counter with six counter stools that serves as a display area for artifacts that relate the courageous stories of the California Freedom Riders such as:
Newspaper clips detailing contrasting historical perspectives from Los Angeles Times & Houston Chronicle
Photographs & political buttons from original Freedom Rider Ellen Broms' personal collection
1961 UCLA oral history & manuscripts written by original Freedom Rider Steven McNichols
The exhibition, presented in partnership with the California Legislative Black Caucus and the Mayme Clayton Library and Museum, opens on February 5, 2011, and continues through May 29, 2011.