September 10, 2011 through November 13, 2011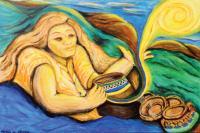 In recognition of Hispanic Heritage Month, Mas Chisme de la Cultura/Spinning Cultural Stories features the original artwork of the Sacramento-based Chicana collective Co-Madres Artistas.
The artists – Irma Barbosa, Carmel Castillo, Mareia de Socorro, Laura Llano and Helen Villa – have been leaders in the Chicana art movement for the past twenty years. Over 20 of their bright and engaging paintings speaking to themes of Latina pride, feminism and community activism will be exhibited in the Maria Shriver Gallery through Sunday, November 13, 2011.
Join us for the special Second Saturday opening reception on September 10th from 5:00-7:00PM!
Learn more about this event
Download event flyer
R.S.V.P. by 4:00PM on Friday, September 9, 2011
"Pot Painter," by Mareia de Sorocco; "Betrothed," by Helen Villa; "The Arrival of the Farewell," by Irma Barbosa. Images courtesy of Co-Madres Artistas.
For more information on Co-Madres Artistas, please visit http://comadresartistas.com/.