2005 – 2011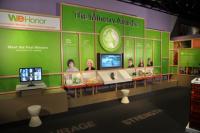 Founded in 2004 by then-California First Lady Maria Shriver, the Minerva Awards honor women who have changed our world with their courage, their strength, and their wisdom. The annual awards celebrated women who work to make this world a more compassionate, tolerant and just place. This conference-funded exhibit chronicles their lasting legacies.
The 2009 Minerva Award winners are:
Agnes Stevens: The life of retired schoolteacher Agnes Stevens changed in 1993 when she read a book about homelessness in the United States. The staggering number of homeless children and the shockingly few who went to school appalled her. She began teaching homeless kids in a park in Santa Monica, encouraging them to stay in school, keep up their grades and participate in school activities.
From that individual decision to help– to bring 30 years of classroom experience to America's most forgotten children–School on Wheels was born.
Seventeen years later, Stevens and School on Wheels provide one-on-one tutoring for homeless kids who live in shelters, motels, group foster homes, cars and on the streets. More than 1,000 volunteer tutors from every profession and background help thousands of homeless children ages six to 18, throughout Southern California enroll in school and stay there.
Formerly a teacher in the New York Bowery, Chicago's Chinatown and Los Angeles' Little Tokyo, Stevens now scours the seedier parts of Southern California looking for children. The neediest don't come to her, she says. She has to go to them.
Without government support of any kind, School on Wheels also gives away at least 5000 backpacks loaded with school supplies, and some school uniforms. The children get help enrolling in school and with locating and filing school records as well as a toll-free phone number for around-the-clock School on Wheels' support. When a child moves, School on Wheels follows them, offering stability in an otherwise unstable existence.
At many shelters, School on Wheels has created special learning rooms, with computers, books, drawing and writing materials, to give the children a quiet place to study.
Her 20 year fight on behalf of homeless children was recognized in 2008, when Stevens was one of three women who received the World's Children's Prize for the Rights of the Child, known as the children's "Nobel Prize."
Helen Waukazoo: Growing up in New Mexico, Helen Devore Waukazoo remembers her beloved Navajo father telling her she would "walk in two worlds:" that of the Native American and the white American.
At 13, Helen and two of her siblings were torn from their family and forced to attend boarding school in a government attempt to move and integrate American Indians from their reservations into non-Indian communities. Helen's school was in Utah, a thousand miles and a world apart from any life she had known. Separated from her parents, she was forced into a foreign world in which she was forbidden to honor her own culture and language. It was a traumatic experience and the moment she was free to leave, she did.
She headed to San Francisco in her early 20's and volunteered at a drop-in center started by a church group, a place for American Indian people to connect in the midst of what often felt like a foreign world. The group recognized the high rate of addiction Helen's people struggled with—both to alcohol and drugs. As she rose from volunteer clerk-typist to paid bookkeeper to co-Founder of the American Indian Friendship House in the 1970s, the mission for the center changed as well.
Today Friendship House exists to help keep Helen's native people sober. Many who come to her are often not just addicted, but homeless and unemployed. Through a unique program approach, most leave committed to sobriety and in a position to regain their footing and their dignity. Friendship House's relapse rate is half that of the average treatment center. Part of the reason is the program's unique blend of 12 Step, Western psychology and Native American traditions. What Helen realized was that Native Americans are more prone to addiction when they abandon tradition. At Friendship House, recovery includes prayers, medicine men, healing ceremonies, talking circles and a sweat lodge. She has also started a 10-bed facility for mothers whose children have been removed by the courts. Here they are taught not just parenting skills, but how to cook and nurture their children incorporating many Indian traditions.
The staff of Friendship House provides Indian Health services in neighboring Alameda and Santa Clara counties. Friendship House has grown into an 80-bed facility in a brand new building and serves as a regional treatment center, the largest center for Indian Americans in California. Beyond its successful alcohol and addiction treatment programs and its facility to reunite mothers and children, Friendship House today helps in finding jobs for clients and in providing youth services.
Dr. Jane Goodall: In the summer of 1960, 26-year-old Goodall arrived at Lake Tanganyika, East Africa to study chimpanzees, an act so unorthodox at the time that British authorities required her mother accompany her as a companion. But before long, she struck out on her own to become a world leader and new voice in redefining the relationship between humans and animals.
In 1957, a school friend invited Goodall to her parents' farm in Kenya. Within months, she met anthropologist and paleontologist Dr. Louis Leakey, who had been searching for someone to begin a study of chimpanzees.
At first, the chimps fled whenever they saw Goodall, but gradually the chimps allowed her close enough for her to get to know them individually and observe their everyday behavior. In the fall of 1960, she saw a chimpanzee strip leaves off twigs to fashion tools. Until then, scientists thought humans were the only species to make and use tools. This would be one of Goodall's most important, although by no means only, discovery.
In her almost 50 years as a primatologist and more recently as an environmentalist, she has fought poachers, polluters and politicians. She has radically influenced her field of study and blazed a trail for other women who have followed in her footsteps, including Dian Fossey. Her research and writing have revolutionized scientific thinking about the evolution of humans.
The Gombe Stream Research Centre, which Dr. Goodall established in 1965, has become a training ground for students interested in studying primates. In 1977, Dr. Goodall, established the Jane Goodall Institute. The Institute supports the continuing research at Gombe and is a global leader in protecting chimpanzees and their habitats and for establishing conservation programs in Africa.
Roots & Shoots, Goodall's global environmental and humanitarian youth program, has nearly 150,000 members in 110 countries. In 2002, Secretary General Kofi Annan named Dr. Goodall a United Nations Messenger of Peace. In 2004 she became a Dame of the British Empire, the female equivalent of a knighthood. Dr. Goodall received her Ph.D. from Cambridge University in 1965, and she has been the recipient of numerous scientific and humanitarian awards from around the world.
Dr. Kathy Hull: Kathy Hull founded the George Mark Children's House in San Leandro, CA, the first freestanding residential pediatric palliative care center in the United States, because she believes that all dying children and their families deserve a sanctuary as they endure one of life's most excruciating experiences. While the vision for this 15,000 square-foot San Leandro "home" was born from personal family tragedy, every detail of its execution reflects a sense of love, warmth and support Hull wants people to know as they struggle with the loss of their own young life or that of their child's.
With Dr. Barbara Beach, a pediatric oncologist, Hull started the house in 2004, acutely aware of the devastation a family faces from the loss of a child. The house is named for two of her brothers, George and Mark. In both cases, she remembers how ill-equipped her family was, as when George was critically ill to navigate the medical system during crisis.
Before Hull created George Mark Children's House, the only options in the United States for dying children were a hospital room, the family's home, or nursing homes geared for adults – all settings that in different ways can be daunting to the surviving family, and most particularly to dying children themselves.
Hull, a clinical psychologist, and her colleague Dr. Beach saw firsthand how badly families needed an alternative: a supportive environment in which every family member's medical, emotional and spiritual needs could be met as they faced this toughest of life's trials.
Hull's first decision was to take on "the look" of her facility. She engaged an architect to design a beautiful ranch style house surrounded by a 5 acre oasis of lush trees and flower beds. A small chapel sits on the top of a hill where services are held in honor of the children who have died here. The bedrooms have brightly colored murals. There is a spacious playroom, a computer game room, family suites, eight patient rooms and a large open kitchen called Ruth's Café where family and staff eat together. In the George Mark Room, families can stay with their child after her/his death and say goodbye over a period of days if that is their choice. Counseling to help cope with a loss of a child is provided free for as long as a family needs it.
Children who come to George Mark have progressive, incurable diseases that will likely take their lives before they become adults. Each year, over 200 families call George Mark their temporary home. Some families come for respite care, a break from the rigors of caring for their seriously ill child. But hospice care takes precedence. No child is denied care because their family is unable to pay.
For more information on past and present winners, visit the Women's Conference on the web.
The Minerva Awards exhibit is generously sponsored by the Women's Conference and Lifetime Networks.