Central Valley Turns On: Psychedelic Poster Art, 1965-1975
November 5, 2010 – May 8, 2011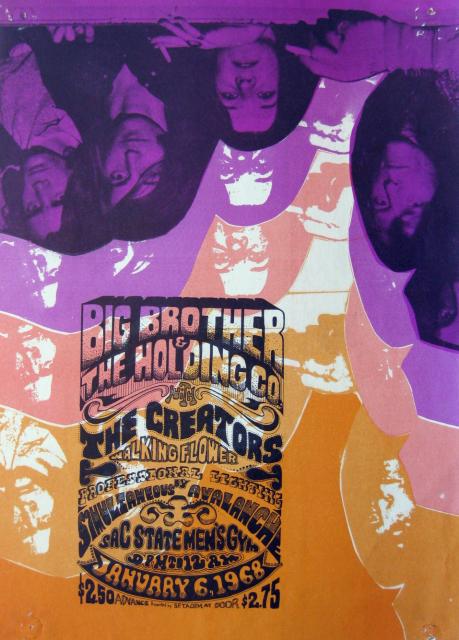 Counterculture, with its rejection of the ordinary, has long been synonymous with California. During the Summer of Love in 1967, San Francisco established itself as the epicenter of the movement, where new genres of music and art emphasizing experimentation gained worldwide notoriety. A new exhibit at The California Museum showcasing 80 rare pieces promoting shows from Sacramento to Bakersfield explores the Central Valley's previously overlooked role as it defines the region's relevance in the era's iconic rock scene.
The Central Valley Turns On: Psychedelic Poster Art, 1965-1975 explores an art form as revolutionary and experimental as the music it was designed to sell, and highlights noteworthy performances from many of the era's legends. Bold colors and hand-drawn illustrations announce a performance by The Doors and KZAP's fifth birthday celebration with the Beach Boys at Sacramento's Memorial Auditorium. Dynamic compositions with intertwining words and imagery decorate handbills to promote The Jimi Hendrix Experience at Sacramento State College and Creedence Clearwater Revival at Cal Expo. Compacted designs of nearly illegible text create patterns to plug the Grateful Dead at Fresno's Selland Arena as well as Pink Floyd headlining a Sacramento Sound Factory show.
Featuring an extraordinary collection of screen and lithographic prints owned by a private poster art aficionado, the exhibit presented by The California Museum in partnership with Alisa Leslie, Curator and Art Historian at Seligman Western Enterprises, and Walter Medeiros, counterculture art historian and contributing author of High Art: A History of the Psychedelic Poster. Many of the pieces have been out of view since they were created over 40 years ago. Now reintroduced to the public, they shed new historical perspective on the Central Valley's supporting role in California's counterculture scene and define the region's relevance in the iconic psychedelic rock movement of the era.