The Dreamers: Inspirational Stories of Southern California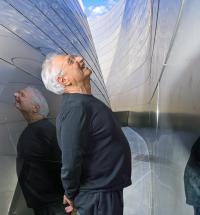 This exhibit presents evocative portraits of Southern Californians, both historic and contemporary, by photographer Harry Brant Chandler.
Inspired by his own family, whose dreams helped shaped Los Angeles – from founding the Los Angeles Times to numerous civic, business and real estate endeavors – Chandler set out to identify those rare Southern Californians with the confidence and imagination to pursue their dreams. Many are famous; most are highly accomplished; all are inspirational. Dreamers, to Chandler, are not content just to strive to be the best. They have to, in fact, reinvent the path to greatness.
He created his portraits as a painter would, changing the composition, removing non-essential visual details, adding or enhancing the colors, replacing the skies and or the background, and, most of all, placing his subjects in the context of their dreams.
From immigrants to billionaires, unknown wannabes to the world famous, surfers to moviemakers, quacks to entrepreneurs, Southern California has produced an unrivaled potpourri of dreamers. Meet some of them here.