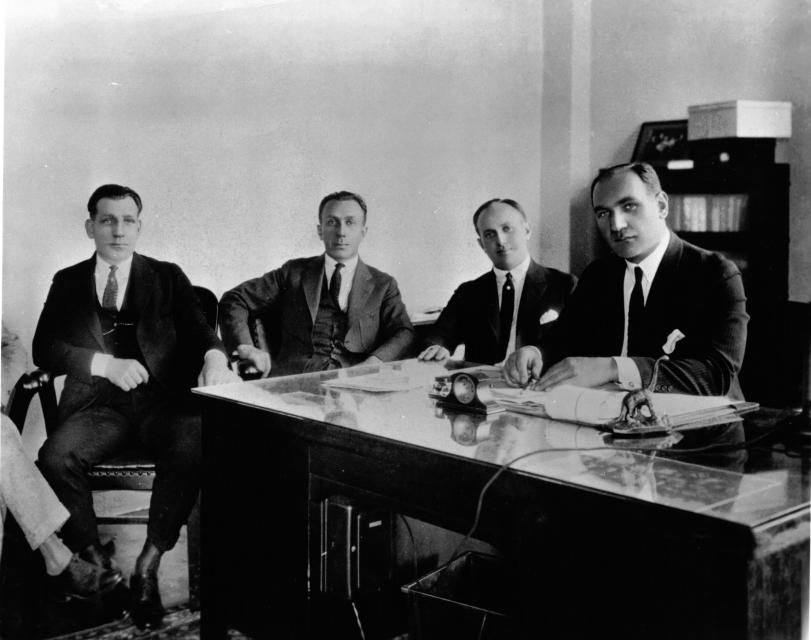 Business/Entertainment
(Founded 1923)
California Connection
Based in Los Angeles, California
Achievements
Biography current as of induction in 2013
Sons of Jewish Polish immigrants, Warner brothers Harry (born Hirsz, 1881 – 1958), Albert (born Abraham, 1884 – 1967), Sam (born Schmuel, 1885-1927) and Jack (born Itzhak, 1892 –1978) got their start in the new business of movies by opening a theater in Pennsylvania in 1903. After a time, they moved into movie production, with Sam and Jack moving to California to capitalize on the burgeoning movie business there.
Profits from their first hit, My Four Years in Germany (1918), helped the brothers purchase a studio in Hollywood. Sam and Jack produced the pictures, while Harry and Albert handled finance and distribution in New York City. In 1923, following the studio's successful film The Gold Diggers, Warner Brothers, Inc. was officially established. Though it had the popular German shepherd Rin Tin Tin as a star, the studio was in dire straits by 1926 when the brothers decided to gamble on sound.
In 1927, the first feature-length "talking picture," The Jazz Singer, broke box-office records, established Warner Bros. as a major studio, and single-handedly launched the talkie revolution. In 1929 the Academy of Motion Pictures Arts and Sciences recognized Warner Bros. with a special Academy Award for "revolutionizing the industry with sound."
The studio's successes included cartoons – the ever-popular Bugs Bunny – and unforgettable movies such as Casablanca (1942), the Dirty Harry films, and the Harry Potter series. Today the company is a leader in the entertainment industry. The company's vast library consists of more than 6,650 feature films, 50,000 television titles and 14,000 animated titles.
View more inductees from the 7th class, inducted in 2013.
for supporting its mission through the California Hall of Fame.