Sports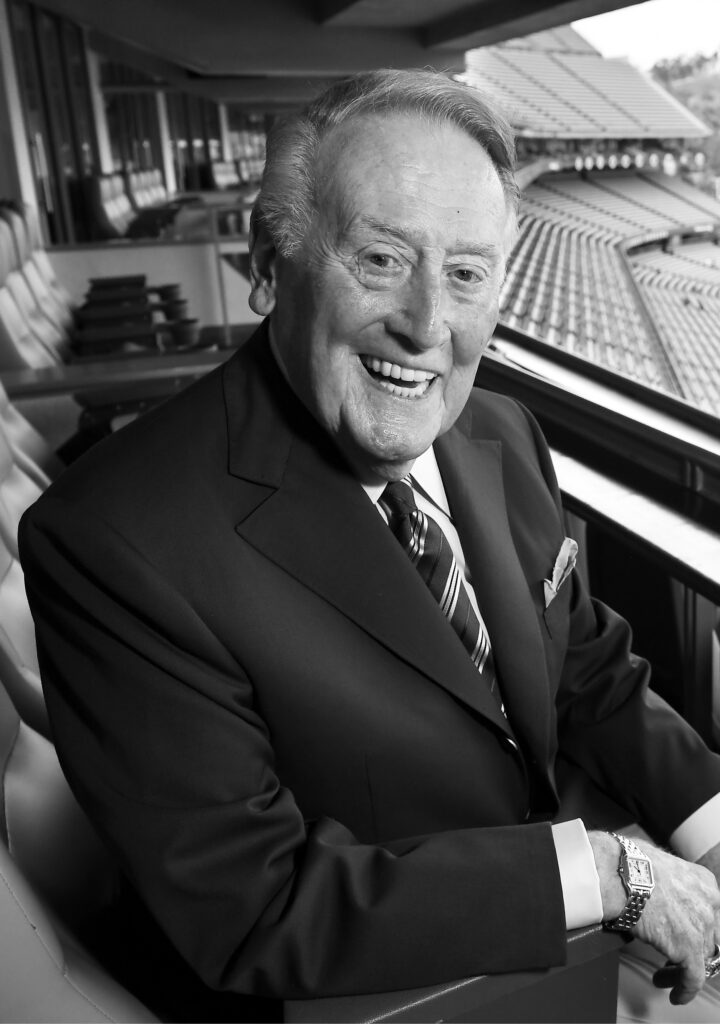 (1927 – 2022)
California Connection
Longtime Los Angeles resident
Achievements
Biography current as of induction in 2023
Vin Scully was the voice of the Brooklyn/Los Angeles Dodgers for 67 consecutive seasons, the longest of any sports broadcaster with one team. The face of the franchise and "soundtrack to summer" in Los Angeles, Scully thrilled generations of fans with his elegant voice and gifted storytelling.
Born in the Bronx and raised in Manhattan, Scully discovered his love of baseball at age eight when, watching the 1936 World Series, he sympathized with the New York Giants as they lost 18-4 to the Yankees. From then on, he was a devoted Giants fan. He began his broadcasting career in 1950, joining Hall of Fame announcer Red Barber and Connie Desmond on the Brooklyn Dodgers' broadcast team just a year after graduating from Fordham University, where he played baseball and called games for the university's radio station, WFUV. In 1952, he became the youngest person ever to broadcast a World Series game, and in 1955, he called the Dodgers' first and only championship in Brooklyn.
Scully followed the Dodgers to Los Angeles in 1958 and quickly gained such a following that fans even brought transistor radios to the ballpark to hear him calling the game. In 1976, Dodger fans voted him the "most memorable personality" in franchise history. Scully was at the microphone for many of baseball's greatest moments, including Don Larsen's perfect game in the 1956 World Series, Sandy Koufax's perfect game in 1965 before "29,000 people and a million butterflies," Hank Aaron surpassing Babe Ruth's home run record in 1974, and Kirk Gibson's two-out, two-strike, two-run homer that gave the Dodgers a victory in Game 1 of the 1988 World Series. In plays both spectacular and ordinary, Scully masterfully interspersed the action on the field with engaging narrative, poetic anecdotes and meaningful moments of silence. Additionally, he did national broadcasts on NBC and CBS, calling play-by-play for NFL games, PGA Tour events, Major League Baseball's Game of the Week, All-Star Games and the World Series. In all, he called 25 World Series and 12 All-Star games.
Scully's many honors included induction into the National Baseball Hall of Fame as the Ford C. Frick Award recipient in 1982 and into the Sports Broadcasting and California Sports Halls of Fame in 2008. The American Sportscasters Association placed him at No. 1 on its list of the "Top 50 Sportscasters of All Time" in 2009 and he became just the second non-player to receive the Commissioner's Historic Achievement Award in 2014. The press box at Dodger Stadium is named for him, and in 2016, the year he retired, he was awarded the Presidential Medal of Freedom by President Obama and Los Angeles renamed the street outside the stadium Vin Scully Avenue.
View more inductees from the 16th class, inducted in 2023.
for supporting its mission through the California Hall of Fame.