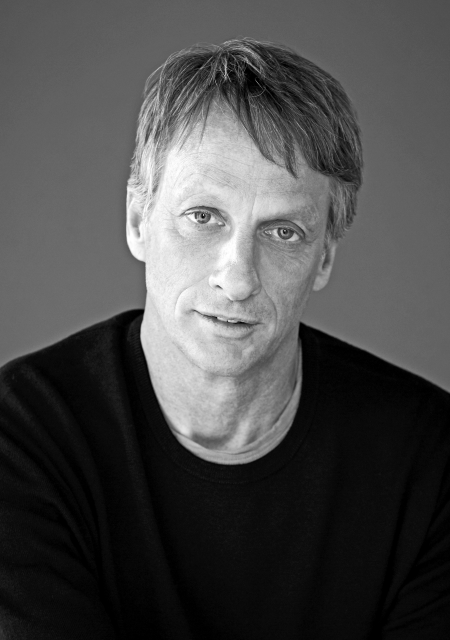 Skateboarder, Entrepreneur & Philanthropist
(b. 1968)
California Connection
Born and raised in San Diego, California
Achievements
Biography current as of induction in 2019
Tony Hawk is a pioneer of vertical, or vert, skateboarding and one of the most famous skateboarders in the sport's history. Nine years old when his brother gave him his first skateboard, by age 12 he was winning amateur contests throughout California. At 14 he turned pro, and at 16 he was widely regarded as the world's best competitive skateboarder. By the time he was 25, he had competed in 103 pro contests, winning 73 of them and placing second in 19 — a record that will almost certainly never be broken. He was crowned vert skating's world champion 12 years in a row.
Hawk was the first skateboarder to land a 900, at the time considered the holy grail of vert skateboarding. The feat occurred at the 1999 ESPN X Games in San Francisco soon after he had teamed up with Activision to create the video game Tony Hawk's Pro Skater. The Tony Hawk series became one of the video game industry's most popular franchises, surpassing $1.4 billion in sales. The Tony Hawk brand also includes Birdhouse Skateboards, Hawk Clothing and the Tony Hawk Signature Series sporting goods and toys.
Today, Hawk continues to skate demos and exhibitions internationally. He also regularly appears on television, in films and on radio. His autobiography, HAWK—Occupation: Skateboarder, was a New York Times bestseller, and his book How Did I Get Here? The Ascent of an Unlikely CEO, covers the business side of his career. In 2012, in partnership with Google, Inc., his film production company launched the RIDE Channel, now the biggest skateboard destination on YouTube. He also is known for philanthropy; his Tony Hawk Foundation, which helps finance public skateparks in low-income areas, has given away over $9.2 million to 623 skatepark projects in all 50 states. Skateparks that received financial assistance from the Tony Hawk Foundation currently serve over 6 million kids annually.
Selected Awards/Recognition
Skateboarding Hall of Fame, 2009
Choice Male Athlete, Teen Choice Awards, 2004
Favorite Male Athlete, Make-A-Wish, 2002
Skater of the Year, "Thrasher" magazine 1990
View more inductees from the 13th class, inducted in 2019.
for supporting its mission through the California Hall of Fame.