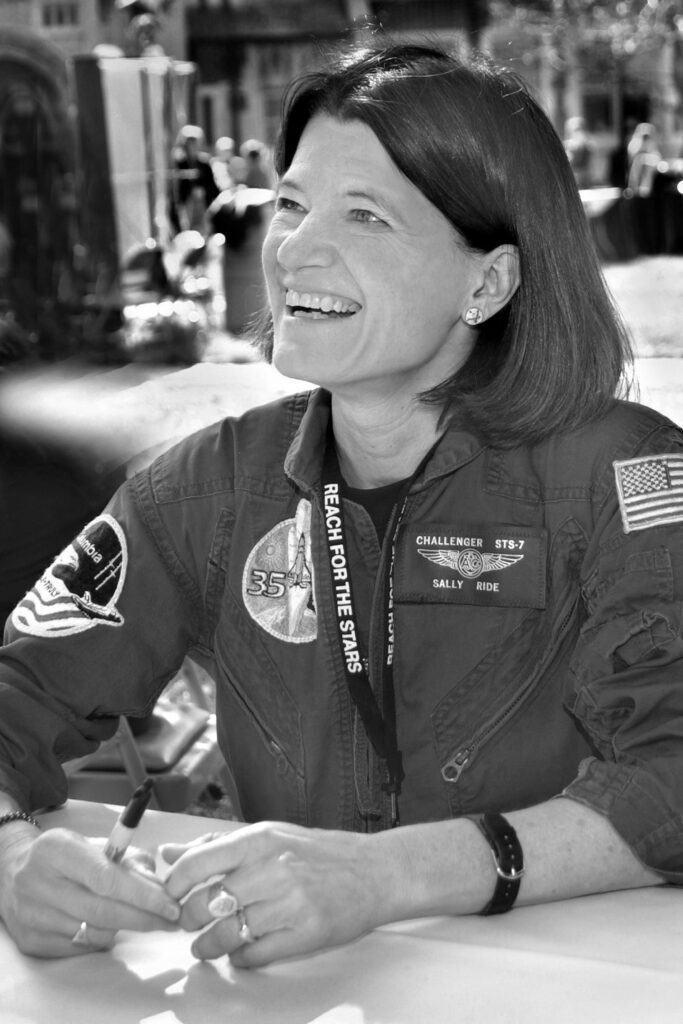 Science
(1951 – 2012)
Achievements
Biography current as of induction in 2006
Born and raised in Los Angeles, California, Dr. Sally Ride is the first American woman to fly in outer space. An accomplished astronaut, physicist, professor and author, she has cumulatively spent more then 343 hours in space.
A nationally ranked tennis player, Ride joined NASA in 1978 as part of the first astronaut class to accept women. As part of her training she was the Capsule Communicator (CapCom) for the second and third Space Shuttle flights (STS-2 and STS-3) and helped develop the Space Shuttle's robot arm.
On June 18, 1983 she made history when she became the first American woman in space as a crewmember on Space Shuttle Challenger for STS-7. Her second space flight was in 1984, also on board the Challenger.
Ride was 8 months into training for her third flight at the time of the Space Shuttle Challenger accident in 1985. She was named to the Presidential Commission investigating the accident, and headed its Subcommittee on Operations, and later served on the investigation panel analyzing the Space Shuttle Columbia disaster, making her the only person to serve on both investigations. Ride was then assigned to NASA headquarters in Washington, D.C. where she led NASA's first strategic planning effort, authoring a report entitled "Leadership and America's Future in Space," and founded NASA's Office of Exploration.
Ride has received numerous honors and awards, including the Jefferson Award for Public Service, the von Braun Award, the Lindbergh Eagle, and the NCAA's Theodore Roosevelt Award. She has been inducted into the National Women's Hall of Fame and the Astronaut Hall of Fame, and has twice been awarded the National Spaceflight Medal. Sally K. Ride Elementary School in The Woodlands, Texas, is named in her honor.
Ride has long been an advocate for improved science education and has written several children's books about space exploration, including The Third Planet, Exploring Earth from Space, To Space and Back, Voyager, and The Mystery of Mars.
Dr. Ride is a physics professor at the University of California, San Diego, and is also Director of the California Space Institute, a research institute of the University of California.
View more inductees from the 1st class, inducted in 2006.
for supporting its mission through the California Hall of Fame.