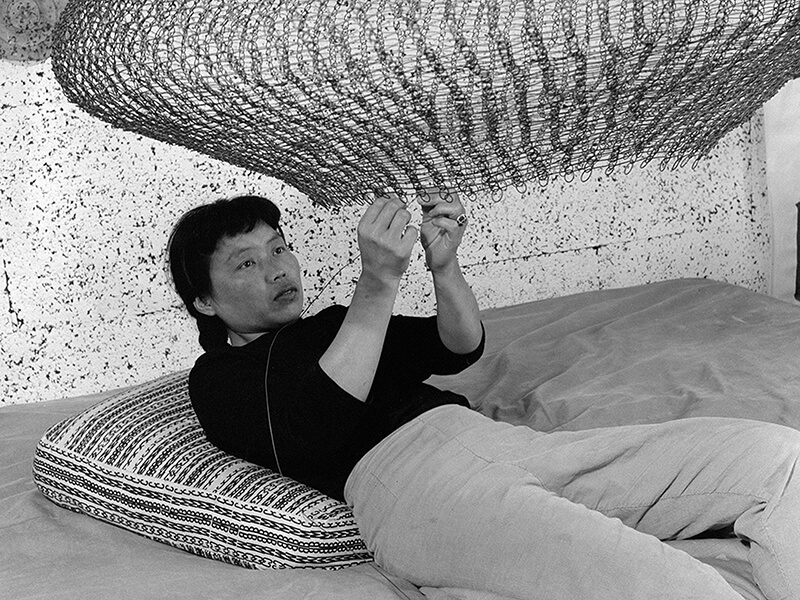 Photo by Imogen Cunningham © Imogen Cunningham Trust. Artwork © 2021 Estate of Ruth Asawa / Artist Rights Society (ARS), New York. Courtesy Estate of Ruth Asawa and David Zwirner.
Arts
(1926 – 2013)
California Connection
Born in Norwalk, Calif.; lived in San Francisco from 1949 until her death in 2013.
Achievements
Biography current as of induction in 2021
Internationally recognized for her distinctive wire sculptures, pioneering artist Ruth Asawa left her mark on the landscape of the San Francisco Bay Area through her public commissions and on countless students through her activism on behalf of arts education.
Asawa's artistic talent was evident from an early age, but she had little spare time for the art-making she enjoyed while working on her family's farm and attending school. In 1942, her family was forced into detention, along with all other Japanese Americans on the West Coast. She got her first chance to study with professional artists while imprisoned at Santa Anita Racetrack and graduated from high school in an incarceration camp in Rohwer, Arkansas. Released to attend teacher's college in 1943, she learned after three years that she would be denied a credential because of her Japanese ancestry. At the urging of close friends, she continued her education at Black Mountain College in North Carolina. There, her creativity blossomed as she studied under many of the leading lights of Modernism, including Josef Albers, Buckminster Fuller and Merce Cunningham. She also met architectural student Albert Lanier, whom she married in 1949.
In San Francisco, the couple raised six children and built their careers. Over the next half-century, Asawa produced sculptures and works on paper. Her innovative use of material and original form brought her growing acclaim. Her work has been exhibited widely since the early 1950s and is in the permanent collections of museums nationwide. She also is known for her public commissions throughout the Bay Area, including fountains in Ghirardelli Square and outside the Grand Hyatt Hotel in San Francisco, and the Japanese American Internment Memorial in San Jose.
Asawa was devoted to expanding access to arts education, believing that when children make art, they make "history for themselves." She co-founded the Alvarado Arts Workshop in 1968 and was instrumental in creating the first public arts high school in San Francisco in 1982, which was renamed in her honor in 2010.
Awards/Recognition (partial list)
U.S. Postal Service, Forever Stamps, 2020
Ruth Asawa, Life's Work. Solo Exhibition at the Pulitzer Arts Foundation, St. Louis, Mo., 2018
The Sculpture of Ruth Asawa: Contours in the Air. Retrospective exhibition at the de Young museum, San Francisco, Calif., 2006
View more inductees from the 14th class, inducted in 2021.
for supporting its mission through the California Hall of Fame.