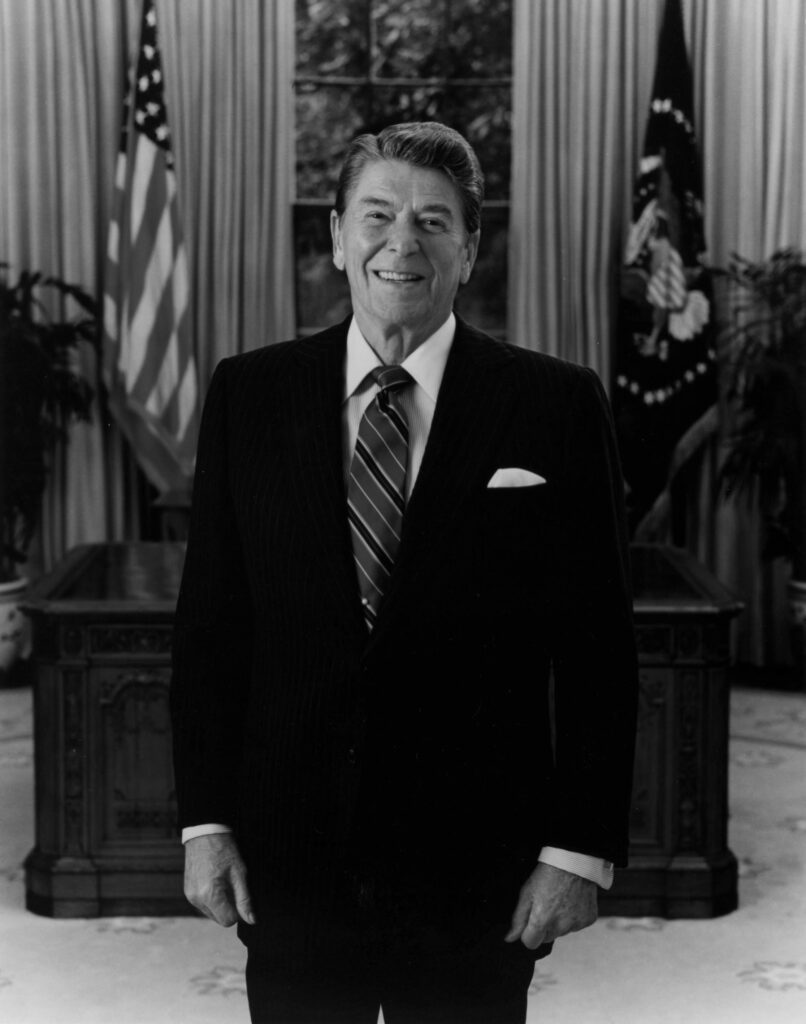 Public Service
(1911 – 2004)
Achievements
Biography current as of induction in 2006
Ronald Wilson Reagan was born February 6, 1911, in Tampico, Illinois, the son of Nelle Wilson Reagan and John Reagan. He was educated in Illinois public schools and graduated from Eureka College in 1932, with a degree in economics and sociology.
Following a brief career as a sports broadcaster and editor, President Reagan moved to California to work in motion pictures. His film career, interrupted by three years of service in the Army Air Corps during World War II, encompassed 53 feature-length motion pictures.
He served six terms as president of the Screen Actors Guild and two terms as president of the Motion Picture Industry Council.
In 1952, he married Nancy Davis. They had two children, Patricia Ann and Ronald Prescott. President Reagan had another daughter, Maureen Elizabeth and an adopted son, Michael Edward, from a previous marriage.
From motion pictures, he went into television in the 1950's, as production supervisor and host of "General Electric Theatre." In 1964-65, he was host of the television series, "Death Valley Days."
In 1966, Ronald Reagan was elected Governor of California, by nearly a million-vote margin. He served as Chairman of the Republican Governors Association in 1969. He was elected to a second term as Governor of California in 1970. After completing his second term, he began a nationally syndicated radio commentary program and several newspaper columns. He also undertook an extensive schedule of speeches to civic, business and political groups.
In 1980, the American people overwhelmingly elected him their fortieth president. Proclaiming an era of national renewal at his inauguration, President Reagan articulated a clear vision of American national purpose based upon his passionate conviction, shared with the people, that the United States represents the "last, best hope" for human freedom, dignity, and democracy in the world.
On November 6, he won a landslide re-election to the Presidency, carrying 49 of 50 states. Upon completion of his second term, he became the first President in three decades to serve two full terms.
During his Presidency, Ronald Reagan successfully lowered the tax structure and championed business growth allowing the United States to enjoy the largest peacetime economic prosperity in its history. President Reagan rebuilt America's military forces, and his policy of "peace through strength" brought the Soviets to the negotiating table, culminating in the historic INF Treaty. It was Ronald Reagan who convinced Mikhail Gorbachev to "tear down" the Berlin Wall. Since then, the world has changed dramatically, and free and democratic societies have emerged around the globe.
As one of the most popular Presidents in our history, Ronald Reagan's presidency represented a major shift toward American conservative values. His influence on world affairs and his belief in the remarkable potential of the American people will continue to be felt for generations to come.
President Reagan died on June 5, 2004 at the age of 93. He is buried at the Ronald Reagan Presidential Library and Museum in Simi Valley, California.
View more inductees from the 1st class, inducted in 2006.
for supporting its mission through the California Hall of Fame.