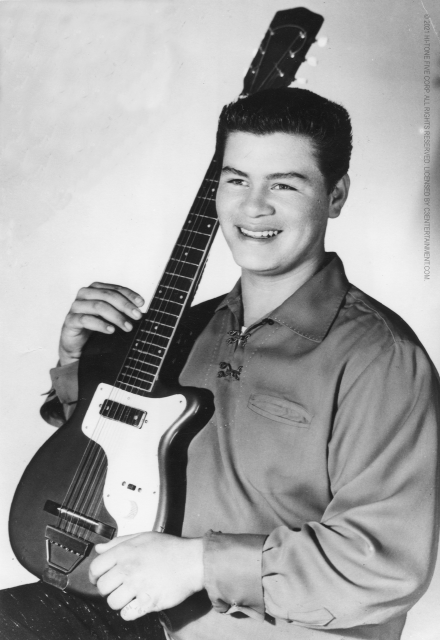 Music
(1941-1959)
California Connection
Born and raised in the Los Angeles area.
Achievements
Biography current as of induction in 2021
Richard Steven Valenzuela, better known as Ritchie Valens, was the first U.S. Latino rock star and the forefather of the Chicano rock movement. His heartfelt lyrics paired with high-energy vocals created a musical style that continues to attract generations of fans around the world.
Valens was born in Los Angeles and raised in the San Fernando Valley. When he expressed an interest in music at an early age, his family encouraged him to take up guitar. Although he was left-handed, he was so eager to learn that he mastered the more readily available right-handed version of the instrument. At age 16, he joined a local band, in addition to playing solo at parties.
He met music producer Bob Keane in 1958, and after the success of his single "Come On, Let's Go," Valens took a break from his senior year of high school to play music. His next single, "Donna," released on Jan. 3, 1959, reached Number 2 on the Billboard charts. But it was "La Bamba" on the flip side that made history. Taking a traditional Mexican standard and making it rock and roll, he created the first Spanish-language song to enter the Billboard Hot 100.
After a performance in Clear Lake, Iowa, Ritchie Valens, Buddy Holly and J.P. "The Big Bopper" Richardson were headed to the next stop on their Winter Dance Party tour of the Midwest. All three perished when their plane crashed shortly after takeoff on Feb. 3, 1959, now known as "The Day the Music Died." Valens was just 17 years old.
Although his life and career were cut short, Ritchie Valens' influence persisted. Finding success at a time when very few Latinos were heard in mainstream American rock and pop music, he paved the way for musicians such as Los Lobos, Los Lonely Boys and Carlos Santana. In 1990, he became the first Latino rock artist to be recognized with a star on the Hollywood Walk of Fame.
Awards/Recognition (partial list)
Rock and Roll Hall of Fame, 2001
U.S. Postal Service Legends of American Music stamp, 1993
Star on the Hollywood Walk of Fame, 1990
Grammy® nomination, Songwriter of the Year, "La Bamba," 1988
View more inductees from the 14th class, inducted in 2021.
for supporting its mission through the California Hall of Fame.