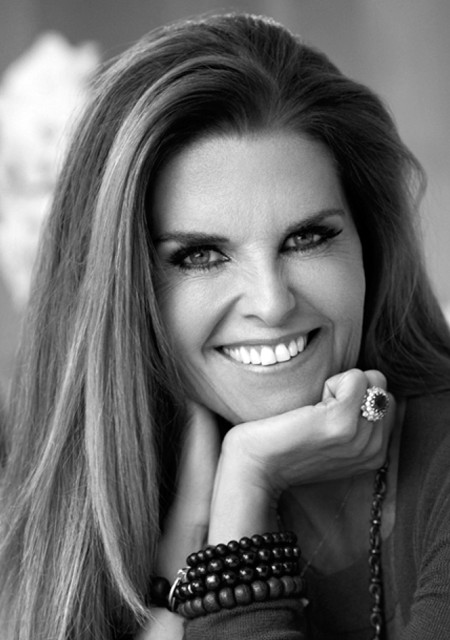 Journalist & former First Lady of California
(b. 1955)
California Connection
Served as First Lady of California (2003-2010) and has lived in California for many years
Achievements
Biography current as of induction in 2016
Maria Shriver is a mother of four, an Emmy and Peabody award-winning journalist and producer, a New York Times best-selling author, an NBC News Special Anchor and the founder of Shriver Media, a for-benefit enterprise that creates media as a force for good.
Shriver's work is driven by her belief that all of us have the ability to be what she calls Architects of Change – people who see a problem in their own life or the community around them, then step out of their comfort zone and do what it takes to create the solution. Shriver's website, MariaShriver.com, and her event series, Architects of Change Live, feature the life stories and life lessons of individuals who challenge what is, imagine what can be and move humanity forward.
Shriver is also one of the nation's leading advocates for families struggling with Alzheimer's disease. She founded The Women's Alzheimer's Movement to raise awareness and funds to identify why women receive two-thirds of all Alzheimer's diagnoses. Shriver also launched Move For Minds, a mind-blowing experience where women and men across the country challenge their brains and their bodies to raise awareness and money to support research on women's brains and Alzheimer's disease.
Shriver also served as editor-in-chief and founder of The Shriver Report and Shriver Report Snapshots, which reported on seismic shifts in American culture and society. Each report broke new ground. The first, A Woman's Nation Changes Everything, reported that women make up two-thirds of all primary caregivers; the second, A Woman's Nation Takes on Alzheimer's, reported that Alzheimer's is primarily a woman's disease; and the third, A Woman's Nation Pushes Back from the Brink, reported that working women were the new face of poverty in America. In 2014, Shriver also executive produced the HBO documentary, Paycheck to Paycheck: The Life and Times of Katrina Gilbert, which followed a year in the life of a 30-year-old woman earning just above the minimum wage. That same year, she also executive produced the feature film, Still Alice, starring Julianne Moore, Alec Baldwin and Kristen Stewart. Shriver also co-executive produced the Emmy Award-winning four-part HBO series The Alzheimer's Project, which premiered in 2009 and opened millions of people's eyes to the disease.
From 2003-2010, Shriver was California's First Lady and, during that time, she spearheaded what became the nation's premier forum for women, The Women's Conference. Under Shriver's direction and vision, the California Governor and First Lady's Conference on Women grew into the world's premier forum for women. With Shriver at the helm, The Women's Conference became a force for change, directly funding millions of dollars in charitable programs serving women on the front lines of humanity and funding the re-emergence of the California Museum. In 2004, Shriver created The Minerva Awards and Minerva Prize to recognize and reward remarkable women who have stepped forward and changed the world with their courage, wisdom, and strength. Throughout her service as first lady, Shriver focused on women, the museum, the working poor and the spirit of volunteerism in California.
Shriver has been a lifelong advocate for people with special needs. She is an entrepreneur and investor in socially responsible companies such as Blaze Pizza and Lovin' Scoopful, which donate a significant portion of profits to Special Olympics.
Shriver is a graduate of Georgetown University, with a degree in American Studies.
Selected Awards/Recognition
Two-time Emmy Award winner
Peabody Award winner
Shinnyo-en Foundation's Pathfinders to Peace Award
View more inductees from the 10th class, inducted in 2016.
for supporting its mission through the California Hall of Fame.