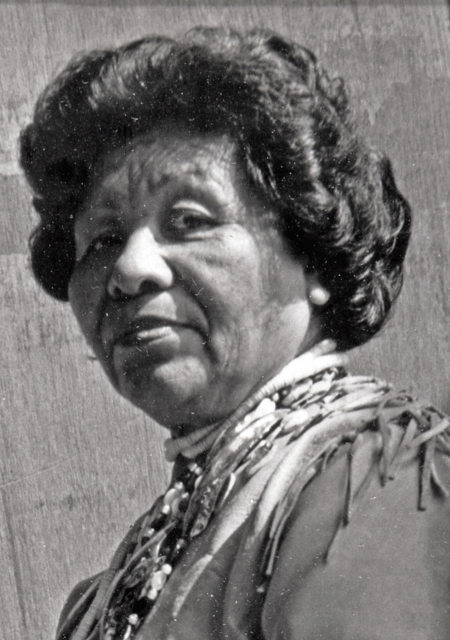 Native Artist & Activist
(1907 – 1993)
California Connection
Member of the Long Valley Cache Creek Pomo tribe; born in Nice, CA
Achievements
Biography current as of induction in 2017
Mabel McKay was one of the greatest California basket weavers of all time, as well as a traditional healer, teacher of Pomo traditions and the last speaker of her language.
Born in rural Northern California, McKay was raised by her maternal grandmother, also a basket weaver, who taught her the Long Valley Cache Creek language and how to gather traditional medicinal plants. In Pomo culture, certain people are guided by the Spirit through dreams. McKay was one of these people, and the dreams instructed her in creating baskets. She wove her first basket at age eight and soon gained recognition for her fine weaving, appearing in newspaper articles and giving demonstrations at the State Indian Museum in Sacramento. Later, she taught and demonstrated basketry across the country to both Native and non-Native students. She didn't sell her baskets, instead making them as gifts and as objects of healing. With their tight stitches, perfect spacing, and fine quality materials, today they are prized by collectors and are in many museums, including the Smithsonian Institution's National Museum of Natural History.
The Spirit also guided McKay in her traditional medicine practices. Widely respected as a healer, she was the last of the Pomo dream doctors, and traveled long distances to visit patients, both inside and outside her Native community.
McKay was always a strong advocate for her culture and for the environment, especially as development and dams destroyed areas that had been traditional gathering places for sedge and other basket materials. In 1976 Governor Edmund G. Brown Jr. appointed her to California's first Native American Heritage Commission, on which she served for many years. There, long before legislation existed to protect Indian cultural resources, she was a powerful voice for the proper handling of sacred objects and burial sites.
Selected Awards/Recognition
California Native American Heritage Commission Founding Member
View more inductees from the 11th class, inducted in 2017.
for supporting its mission through the California Hall of Fame.