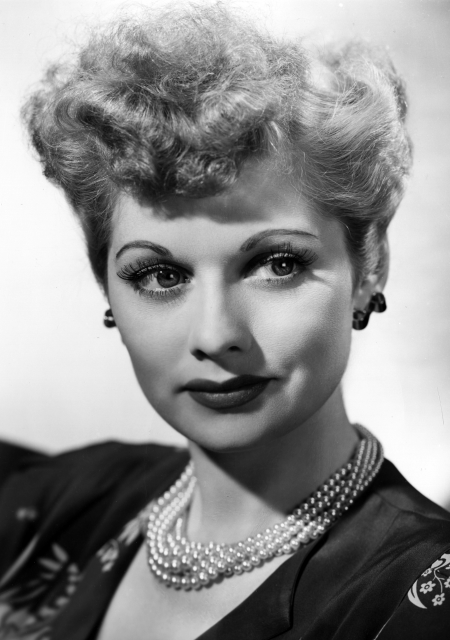 Actress, Comedienne & Studio Executive
(1911 – 1989)
California Connection
Moved to California in 1933; lived and worked in California until her death in 1989
Achievements
Biography current as of induction in 2017
Lucille Ball was an award-winning entertainer best known for her starring role on the iconic television shows "I Love Lucy," "The Lucy Show" and "Here's Lucy."
Born in Jamestown, NY in 1911, Ball got her first professional acting job at age 15. She began working in 1929 as a model for fashion designer Hattie Carnegie, and in 1933 landed a contract with United Artists. The following year, she signed with RKO Radio Pictures, where she appeared in nearly 50 films and came to be nicknamed "the Queen of the B's." Over her career, she worked with many studios on a total of 82 films. While on the set of "Too Many Girls," she met Cuban bandleader Desi Arnaz, and the two married on November 30, 1940.
In 1951, Ball and Arnaz created and starred in the pioneering television sitcom "I Love Lucy," one of the most influential and popular shows in history. Airing on CBS through 1957, the series was the most watched show in four of its six seasons, making household names of its stars. The series was the first to feature an interracial couple, the first to be shot on 35 mm film in front of a live studio audience and the first to be syndicated. More than 66 years after its debut, "I Love Lucy" remains in syndication and is watched by more than 40 million people around the world each year.
Ball continued to break ground in her work through her death in 1989. In 1962, she became the first woman to run a studio as the CEO and President of Desilu Productions, which produced many popular series including "Mission: Impossible" and "Star Trek." Under her direction, Desilu became and remained the number one independent production company until it was sold in 1967.
Selected Awards/Recognition
5 Emmy Awards®
Cecil B. DeMille Award
Kennedy Center Honors
View more inductees from the 11th class, inducted in 2017.
for supporting its mission through the California Hall of Fame.