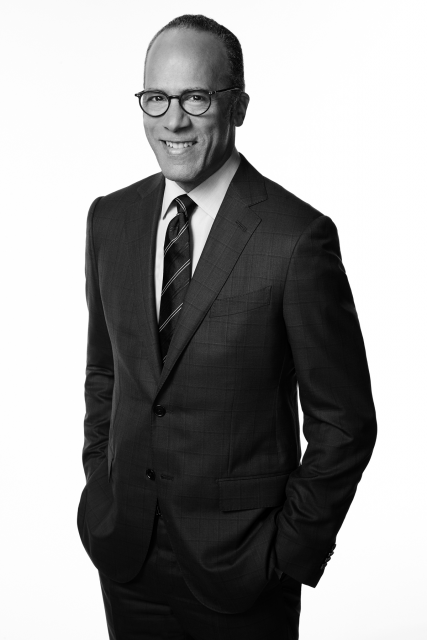 News Anchor
(b. 1959)
California Connection
Born and raised in California; attended California State University, Sacramento
Achievements
Biography current as of induction in 2015
Lester Holt is an award-winning journalist and anchor of "NBC Nightly News," the network's flagship broadcast and America's most-watched evening newscast. He was named to the role in June 2015 after eight years as anchor of "NBC Nightly News" weekend edition and 12 years as co-anchor of "Weekend Today." He also has served as principal anchor of "Dateline NBC" since September 2011.
Holt reported from Paris on the terrorist attacks at Charlie Hebdo, from Cairo on the unrest in Egypt, from Japan on the earthquake and nuclear crisis and from Haiti in the aftermath of the earthquake. Other major stories he covered include the 2009 crash of an Air France jet over the Atlantic, the 2006 war between Israel and Hezbollah, the oil spill in the Gulf of Mexico and hurricanes Katrina and Rita. In 2003, he reported from the Iraqi border as US forces prepared to launch their invasion.
Before becoming co-anchor of "Weekend Today" in 2003, Holt anchored "Lester Holt Live," a daily news show. He was a primary anchor for MSNBC's coverage of major news events such as the wars in Iraq and Afghanistan.
Holt previously spent 14 years at WBBM-TV in Chicago, where his duties included anchoring the evening news and reporting from trouble spots including Iraq, Northern Ireland, Somalia, El Salvador and Haiti. He contributed to the CBS News broadcast "48 Hours," earning a 1990 Robert F. Kennedy Journalism award. In 2010, he was part of the "Today" anchor team that won the Daytime Emmy Award for Outstanding Morning Program. In 2014, he was part of the NBC News Specials team that won an Emmy for reporting on the Boston Marathon bombings. Holt was also part of the NBC Nightly News team that won the 2014 News and Documentary Emmy Award for Outstanding Coverage of a Breaking News Story in a Regularly Scheduled Newscast. 
View more inductees from the 9th class, inducted in 2015.
for supporting its mission through the California Hall of Fame.