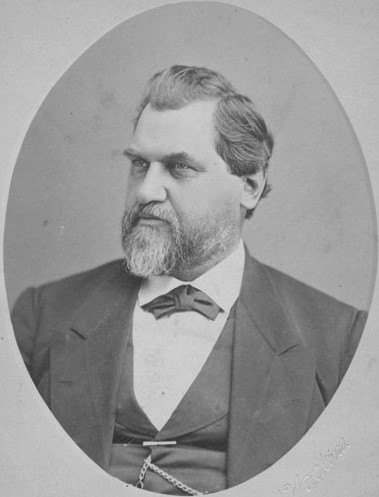 Public Service
(1824 – 1893)
Achievements
Biography current as of induction in 2008
As governor, senator, university founder, and especially as a driving force behind the building of the transcontinental railroad, Leland Stanford helped shape California's history for more than three decades.
Just five years after his pioneer spirit led him to California in 1852, Stanford helped organize the Republican Party in the state, and in 1862 he became its first Republican governor. During his two-year term in office, he worked to keep California in the Union, and oversaw the state's considerable economic contribution to Union victory in the Civil War. He also used his political influence to secure massive state funding and land grants for a transcontinental railroad.
After his term as Governor ended, Stanford became president of the Central Pacific Railroad. With investors Charles Crocker, Mark Hopkins and Collis Huntington, Stanford was one of the "Big Four" directing the construction of the western side of the transcontinental railroad. In 1869 he drove the famous "Golden Spike" at Promontory Point, Utah, linking the east and west coasts of North America by rail and forever changing cross-country travel and commerce.
In 1885, as a memorial to their son, who died as a teenager, Stanford and his wife, Jane, founded and endowed Leland Stanford Junior University in Palo Alto. The institution was innovative from the start: co-educational, at a time when most were all-male, and non-denominational, when most were affiliated with a religious organization. Today, it is one of the foremost universities in the world.
Stanford was appointed to the U.S. Senate in 1885 and served until his death.
View more inductees from the 3rd class, inducted in 2008.
for supporting its mission through the California Hall of Fame.