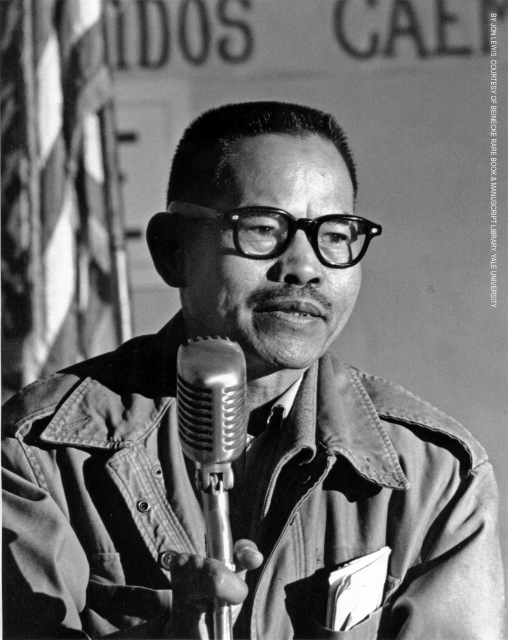 Public Service
(1913-1977)
California Connection
Lived and worked in Stockton, Calif., and Delano, Calif.
Achievements
Biography current as of induction in 2021
Larry Itliong was one of the most important civil rights leaders of the 20th century and a father of the West Coast labor movement.
Born in the Philippines, Itliong immigrated to the U.S in 1929, hoping to become a lawyer. Instead, he ended up working in the Alaskan fish canneries and along the West Coast as a farm laborer. During that time, he experienced how badly laborers were treated and saw the power they could gain by working together. He became an activist and organizer.
Following his service in the U.S. Army during World War II, Itliong became a U.S citizen and in 1954 moved to Stockton's Little Manila, where he organized for the Agricultural Workers Organizing Committee (AWOC). He was so good at recruiting new members that union leaders asked him to move to Delano to organize Filipino grape workers. It was there that he helped change the history of farm labor.
On Sept. 8, 1965, he led AWOC members in walking off the grape vineyards to demand wages equal to federal minimum wage and better working conditions. But Itliong knew that for the strike to succeed, they needed members of the National Farm Workers Association to join. He approached NFWA's leader, César Chávez, with the proposal. On Sept. 16, the AWOC and NFWA joined forces beginning the Delano Grape Strike and Boycott. It lasted five years and was one of the most important social justice and labor movements in American history, ending with victory for the farmworkers. In the meantime, the AWOC and NFWA merged in 1966 to become the United Farm Workers (UFW), with Chávez as director and Itliong as assistant director.
In 1971, Itliong left the UFW but continued to work for Filipino Americans until his death in 1977 at age 63. One of his major successes was securing funding for the construction of the Paulo Agbayani Retirement Village in Delano, which has provided housing and support for retired Filipino farmworkers since 1974.
Awards/Recognition (partial list)
Larry Itliong Day is recognized in California annually on Oct. 25
Itliong-Vera Cruz Middle School in Union City, Calif.
View more inductees from the 14th class, inducted in 2021.
for supporting its mission through the California Hall of Fame.