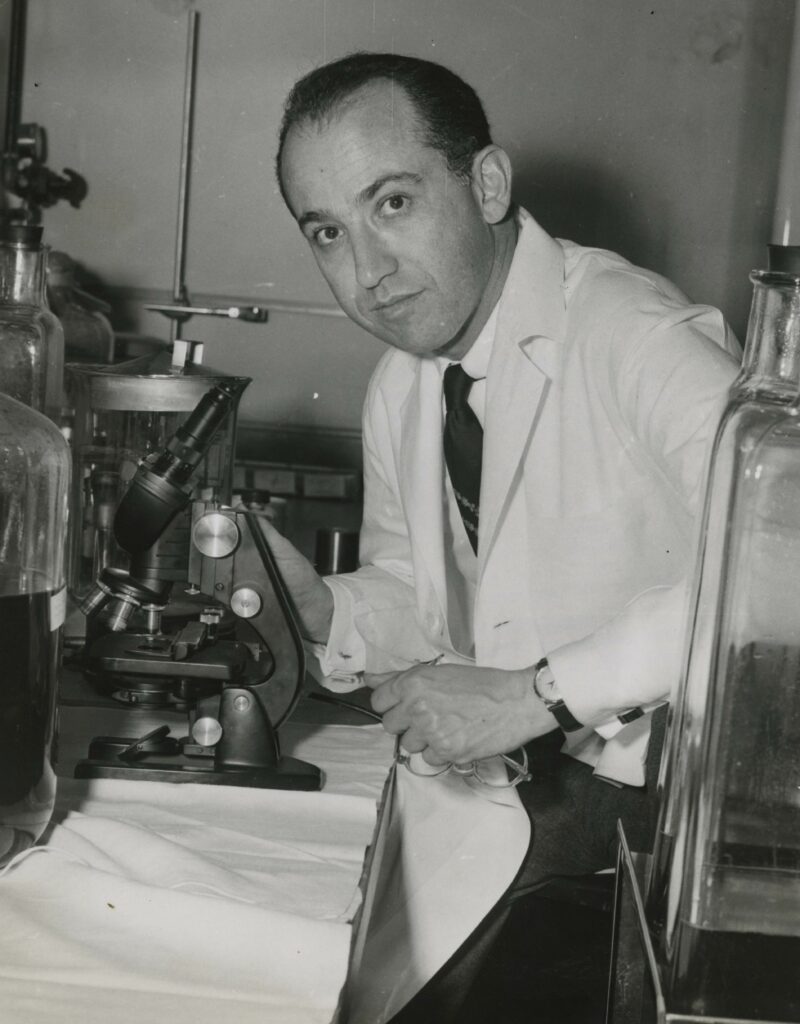 Science
(1914 – 1995)
Achievements
Biography current as of induction in 2007
Jonas Salk became an international hero when he developed the first successful vaccine against polio, which once crippled or killed thousands every year. Thanks to his work and that of others in the field, the disease has been nearly eradicated today.
He never patented the vaccine, nor did he earn any money from his discovery, preferring to see it distributed as widely as possible.
Born in New York City, Salk excelled in his studies and entered college at age 15. He earned his M.D. in 1939, and served as a physician at Mount Sinai Hospital before becoming a research fellow at the University of Michigan. In 1947, he was appointed director of the Virus Research Laboratory at the University of Pittsburgh School of Medicine. His research there caught the attention of the National Foundation for Infantile Paralysis (now the March of Dimes Birth Defects Foundation), which decided to fund his efforts to develop a killed virus polio vaccine.
On April 12, 1955, after extensive trials, the vaccine was pronounced safe and effective. The results were remarkable: in the two years before the vaccine was widely available, the average number of U.S. polio cases was over 45,000; by 1962, that number had dropped to 910.
He next turned his attention to establishing an institute dedicated to understanding human biology and improving human health. In 1959, he and architect Louis Kahn began a unique partnership to design the facility. The March of Dimes provided the seed money, and the San Diego City Council, with the overwhelming support of the San Diego voters, gifted the land. Today, the Salk Institute in La Jolla, California, is one of the world's preeminent research institutions in the biological sciences, and its buildings and plaza are among the masterpieces of 20th century architecture.
During the last 40 years of his life, Salk conducted research on cancer and autoimmune disease, and continued vaccine research related to both polio and AIDS. He also lectured and wrote extensively about nature, evolution and the human future.
Salk and his first wife, Donna Lindsay, had three children: Peter, Darrell, and Jonathan. They divorced in 1968, and in 1970 he married Françoise Gilot. He died June 23, 1995. A memorial at the Institute with a statement by Salk captures his vision: "Hope lies in dreams, in imagination and in the courage of those who dare to make dreams into reality."
View more inductees from the 2nd class, inducted in 2007.
for supporting its mission through the California Hall of Fame.