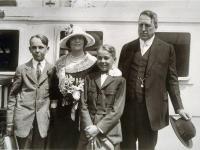 Business & Labor
Achievements
Biography current as of induction in 2006
William Randolph Hearst, the man behind Hearst Castle, is an important figure from the twentieth century whose influence extended to publishing, politics, Hollywood, the art world and everyday American life. His power and vision allowed him to pursue one of the most ambitious architectural endeavors in American history, the result of which can be seen in magnificent grounds and structures of Hearst Castle.
Mr. Hearst was born on April 29, 1863, in San Francisco, California, as the only child of George and Phoebe Hearst.
His father being a wealthy man as a result of various mining interests, young William had the opportunity to see and experience the world as few do.
At the age of ten Hearst and his mother toured Europe, gathering ideas and inspiration from the grandeur and scale of castles, art and history. This experience fueled Hearst's life long aspiration to recreate this majesty for his own enjoyment.
Back in the United States, Hearst was enrolled in St. Paul's Preparatory School in Concord, New Hampshire at the age of 16. Mr. Hearst continued his education at Harvard where he showed the first signs of becoming a future publishing tycoon. At Harvard, he excelled in journalism and acted as the business manager of the Harvard Lampoon. His election to the "Hasty Pudding" theatrical group revealed his talent and interest in drama.
During his time at Harvard, his father George acquired the San Francisco Examiner as payment for a gambling debt. Soon after, the young Hearst pleaded with his father to turn over the paper to his authority. In 1887 the older Hearst relented and relinquished control to his ambitious son. Shortly after, William Randolph Hearst purchased another newspaper, the New York Journal which would become the second in a long list of newspaper holdings that Hearst acquired in the next decade of his life. At his peak he owned over two dozen newspapers nationwide; in fact, nearly one in four Americans got their news from a Hearst paper.
In 1903, Mr. Hearst married Millicent Willson in New York City. The couple had five sons together during their marriage: George, William Randolph Jr., John and twins Randolph and David.
Their honeymoon drive across the European continent inspired Mr. Hearst to launch his first magazine, Motor. Motor became the foundation for another publishing endeavor that is currently known as Hearst Magazines.
Hearst's interest in politics led him to election to the United States House of Representatives as a Congressman from New York in 1902. After reelection in 1904, he unsuccessfully pursued the New York Governorship in 1906.
Following his short political career, Hearst continued his endeavors in publishing and communications. In the 1920's he started one of the first print-media companies to enter radio broadcasting and in the 1940's he was an early pioneer of television. Mr. Hearst was a major producer of movie newsreels with his company Hearst Metrotone News, and is widely credited with creating the comic strip syndication business. His King Features Syndicate today is the largest distributor of comics and text features in the world. In his career, William Hearst produced over 100 films including, The Perils of Pauline, The Exploits of Elaine and The Mysteries of Myra.
In addition to his successful business endeavors, Mr. Hearst amassed a vast and impressive art collection that included classical paintings, tapestries, religious textiles, oriental rugs, antiquities, sculptures, silver, furniture and antique ceilings. Much of this collection found its home at Hearst Castle and Hearst's various other properties, while the remainder filled warehouses on both the East and West Coasts. Like many of his contemporaries, Hearst voraciously collected art and compiled a museum quality collection.
Throughout his life, Hearst dreamed of building a dwelling similar to those he had seen on his European tour as a boy. Hearst Castle was to become the realization of this dream as he and architect Julia Morgan collaborated for 28 years to construct a castle worthy of those he saw in Europe. During construction Hearst used the Castle as his primary residence and it was here that he continually entertained the elite of Hollywood, politics and sports. Hearst left his San Simeon estate in 1947 to seek medical care unavailable in the remote location. While the Castle was never completely finished, it stands as the remarkable achievement of one man's dream.
William Randolph Hearst died on August 14, 1951, at the age of 88. He was interred in the Hearst family mausoleum at the Cypress Lawn Cemetery in Colma, California. All of his sons followed their father into the media business and his namesake, William Randolph, Jr., became a Pulitzer Prize-winning Hearst newspaper reporter. Today Mr. Hearst's grandson, George R. Hearst, Jr., is chairman of the board of The Hearst Corporation.
George Hearst
George Hearst was born and raised in Franklin County, Missouri in 1820. Growing up he received very little in the way of formal education but he did learn a lot about the so-called "lay of the land," particularly in regards to mining. In fact, legend has it that local Indians referred to him as the "boy that the earth talk to."
George quickly established himself in adulthood as a powerful miner and rancher in the Western United States. A self-made millionaire, he owned interest in some of the most important claims in the U.S., including the Comstock Lode in Nevada, the Ontario silver mine in Utah, the Homestake gold mine in South Dakota and the Anaconda copper mine in Montana. The Comstock, Homestake and Anaconda claims would become three of the largest mining discoveries in American history.
As a rancher and prospector, George Hearst continually acquired large portions of land throughout the United States, especially in California and the West. One of the land acquisitions was the purchase of the 48,000 acre Piedras Blancas Ranch at San Simeon in 1865. He later purchased the adjoining Santa Rosa and San Simeon ranches. George Hearst would use this land throughout his life as a place to retreat with his family for lavish camping trips.
In 1862, George married Phoebe Apperson Hearst at the age of 41. In 1863, the couple gave birth to their first and only child, William Randolph.
Later in life George Hearst served as a United States Senator from California from 1887 until his death in 1891. During this time he acquired the small San Francisco Examiner as a repayment for a gambling debt. Although he had little interest in the publishing business this would prove to be an important event in the Hearst legacy. While he had hoped William would manage the family's mining and ranching holdings, his only son wanted to become the proprietor of the Examiner and an elderly George Hearst relented and relinquished control of the paper to him.
Phoebe Hearst
Phoebe Apperson Hearst was born 1842 in Franklin County, Missouri. Before marrying 41 year old George Hearst at the age of 19, Miss Apperson worked as a teacher in area schools.
Soon after their marriage the couple moved to San Francisco where Phoebe gave birth to their only child, William Randolph in 1863. In 1873 Phoebe took young William on a grand tour of Europe where the two spent more than a year visiting castles, museums and various cultural centers. This trip would prove to be a pivotal inspiration for William's later endeavor constructing Hearst Castle.
When George Hearst was elected to the United States senate in 1887, the couple relocated to Washington D.C. where Phoebe entertained many guests and statesman. Four years later, Phoebe became the sole heir to her husband's valuable estate upon his death in 1891.
After George's death, Phoebe again returned to California and renewed construction on a palatial residence in Pleasanton, California that had been started by her son a few years earlier. For the project, Mrs. Hearst commissioned Julia Morgan as architect. She would later become the architect behind Hearst Castle.
Throughout her life Phoebe was dedicated to education and, when her financial status allowed her to, she became a generous philanthropist of various educational endeavors. As early as 1891, she made a large gift to the University of California, Berkeley in order to endow several scholarships for women students. She also funded an international architectural competition for a master plan for the University of California, Berkeley, endowed a scholarship program for students at the University and presented the campus with the gift of the Hearst Memorial Mining Building and Hearst Hall.
Later she financed a school for the training of kindergarten teachers and in 1887 she founded the first free kindergarten in the United States. She eventually opened up six more of these free schools supported by her time and money. In 1897, she founded the National Congress of Mothers, a forerunner of the National Council of Parents and Teachers, better known today as the PTA.
In 1897 she became the first woman Regent of the University of California, serving actively on the board from 1897 to 1919.
Phoebe Apperson Hearst died in 1919, a victim of the worldwide influenza epidemic of 1918-1919.
View more inductees from the 1st class, inducted in 2006.
for supporting its mission through the California Hall of Fame.