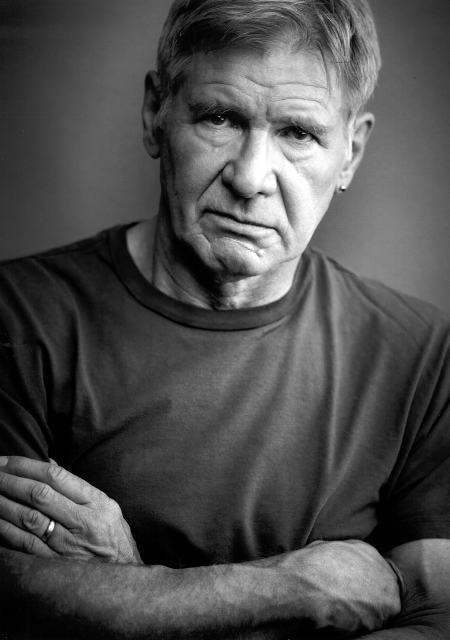 Actor
10TH CLASS
(b. 1942)
California Connection
Has lived in California and worked in Hollywood since 1964
Achievements
Biography current as of induction in 2016
Harrison Ford has starred in some of the most successful and acclaimed films in cinema history, including the landmark Star Wars and Indiana Jones franchises and a total of eight Best Picture Oscar®-nominated movies. Ford earned an Academy Award® nomination for his compelling portrayal of Detective John Book in Peter Weir's 1985 Oscar®-nominated hit Witness, for which he also received Golden Globe and BAFTA Award nominations, all for Best Actor. Ford subsequently garnered three more Best Actor Golden Globe nominations: for his performances in Weir's 1986 drama, The Mosquito Coast; the 1994 Oscar®-nominated blockbuster, The Fugitive, for director Andrew Davis; and Sydney Pollack's 1996 remake of Sabrina.
Over the course of his illustrious career, Ford has also been repeatedly honored for his contributions to the film industry, including the British Academy of Film and Television Arts' Albert R. Broccoli Britannia Award for Worldwide Contribution to Entertainment in 2015, the Hollywood Foreign Press Association's Cecil B. DeMille Award in 2002, and the American Film Institute's Lifetime Achievement Award in 2000. In 1994, the National Association of Theater Owners named him the Box Office Star of the Century.
He was recently cast in Blade Runner 2, to premiere domestically on January 12, 2018.
Ford was last seen reprising his role as Han Solo in Disney's Star Wars Episode VII: The Force Awakens, directed by J.J Abrams. The film broke multiple box office records including highest grossing domestic film of all time.
In 2013, he starred in Brian Helgeland's acclaimed drama 42, the true story of legendary baseball player Jackie Robinson, who broke baseball's color line. Ford has received widespread praise for his portrayal of Branch Rickey, the general manager of the Brooklyn Dodgers who changed history when he signed Robinson to the team.
A native of Chicago, Ford launched his film career in 1973 with the breakthrough role of hot-rodder Bob Falfa in George Lucas's seminal hit American Graffiti. Four years later, he reunited with Lucas to play the iconic role of Han Solo in Star Wars: Episode IV – A New Hope. The sci-fi epic earned 12 Oscar® nominations, including Best Picture, and went on to become the top-grossing film in history, a record it held for 20 years. Ford reprised the role of Han Solo in the sequels The Empire Strikes Back and Return of the Jedi.
In 1981, Ford created another legendary screen character, Indiana Jones, in Steven Spielberg's Oscar®-nominated mega-hit, Raiders of the Lost Ark. During the 1980s, he starred in the blockbuster sequels Indiana Jones and the Temple of Doom and Indiana Jones and the Last Crusade. In 2008, he returned to the title role in the hugely successful Indiana Jones and the Kingdom of the Crystal Skull.
Ford's many other film credits include Francis Ford Coppola's Oscar®-nominated features The Conversation and Apocalypse Now; Ridley Scott's 1982 science fiction classic Blade Runner; Mike Nichols' Oscar®-nominated romantic comedy Working Girl; the title role in the Nichols-directed drama Regarding Henry; Alan J. Pakula's Presumed Innocent; Philip Noyce's Patriot Games and Clear and Present Danger, both based on the Tom Clancy bestsellers; Wolfgang Petersen's Air Force One; Robert Zemeckis's What Lies Beneath; Kathryn Bigelow's K-19: The Widowmaker, which he also executive produced; Roger Michell's Morning Glory; Jon Favreau's Cowboys & Aliens; Robert Luketic's Paranoia; Brian Helgeland's 42; Steve Golin's Age of Adeline; and Gavin Hood's Ender's Game.
Ford currently serves as a Vice-Chairman of the board of directors for Conservation International, a nonprofit group that protects biodiversity in trouble spots internationally. He has been a member for over 25 years.
Selected Awards/Recognition
2 Saturn Awards for Best Actor
Cecil B. DeMille Award
Star on the Hollywood Walk of Fame
View more inductees from the 10th class, inducted in 2016.
for supporting its mission through the California Hall of Fame.