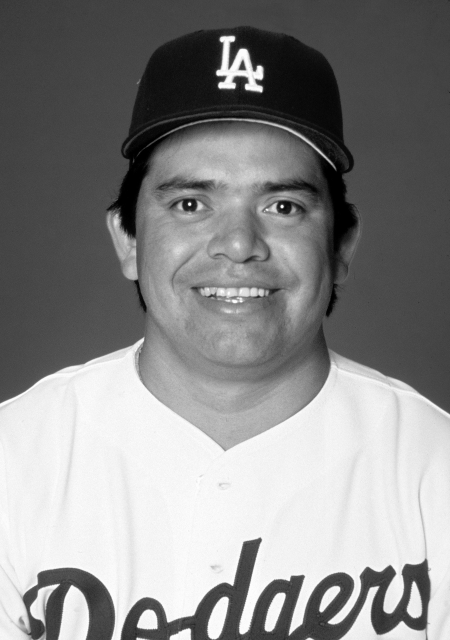 Los Angeles Dodgers Pitcher
(b. 1960)
California Connection
Has lived in California since 1979.
Achievements
Biography current as of induction in 2018
Fernando Valenzuela was one of MLB's most beloved players over his 17-season career. Opening day of 1981 launched "Fernandomania," a phenomenon in Los Angeles and then the nation named after the Mexican-born pitcher. He won his first eight starts with seven complete games and five shutouts, on his way to Rookie of the Year and Cy Young awards — he remains the only player to win both in the same year. He finished his rookie season with a league-leading eight shutouts and 180 strikeouts.
Nicknamed "El Toro," Valenzuela was known for his skyward glance at the peak of his windup and for throwing a rarely-used pitch called a screwball. In 11 seasons with the Dodgers, he was an All-Star selection six times. At the 1986 All-Star Game, he made history by striking out five consecutive American League batters, tying a record set in 1934. On June 29, 1990, he threw a 6–0 no-hitter against the St. Louis Cardinals.
But his greatest legacy was igniting Latino interest in MLB, spiking attendance to his games, and sparking TV and radio broadcasts throughout Mexico. Eleven of his 12 starts at Dodger Stadium in 1981 were sellouts. As Dodgers announcer Vin Scully put it, "Fernandomania bordered on a religious experience."
Since retiring as an MLB player in 1997, Valenzuela has served as a Spanish-language color commentator for the Dodgers and for SportsNet LA. In 2015 he accepted an appointment from President Barack Obama as a Presidential Ambassador for Citizenship and Naturalization, helping break down barriers for eligible immigrants and refugees to become U.S. citizens.
Selected Awards/Recognition
Caribbean Baseball Hall of Fame
Hispanic Heritage Baseball Museum Hall of Fame
View more inductees from the 12th class, inducted in 2018.
for supporting its mission through the California Hall of Fame.