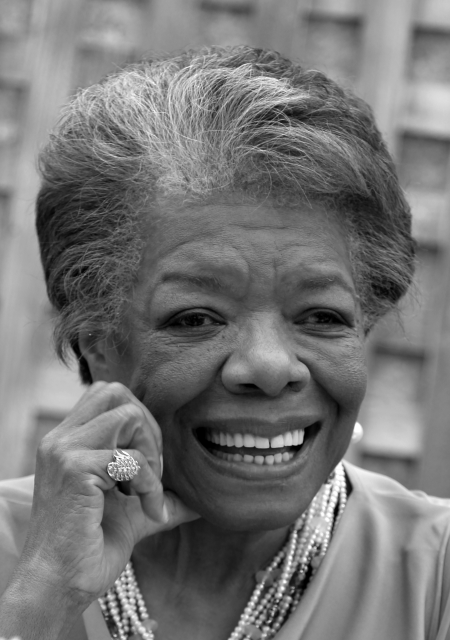 Writer, Poet, Performer & Teacher
(1928 – 2014)
California Connection
Moved to California at age 14 and began her career as a performer in San Francisco
Achievements
Biography current as of induction in 2019
Born Marguerite Johnson in St. Louis, Missouri, and raised in Stamps, Arkansas, Dr. Maya Angelou was a writer, poet, performer and teacher. In 1969, with the publication of her groundbreaking autobiography I Know Why the Caged Bird Sings, Angelou rose to international prominence. Caged Bird is an intelligent and sophisticated story of how Angelou transformed herself from a victim of racism with an inferiority complex into a self-assured, dignified young woman and civil rights activist. The book was banned by many schools and colleges because of its frank portrayal of childhood rape, racism and sexuality. Undeterred, she wrote several more books of autobiography.
Dr. Angelou also published five books of poetry, including I Shall Not Be Moved; three books of essays, including Letter to My Daughter; children's books and six long-form poems, including Mother and On the Pulse of Morning, which she read at the 1992 inauguration of President Bill Clinton. It was the first time that an African American woman presented a poem at a presidential inauguration. In 2013, at age 85, Angelou published her seventh autobiography, Mom & Me & Mom. The list of her published verse, non-fiction, and fiction now includes more than 30 bestselling titles.
Angelou's remarkable career encompasses dance, theater, journalism and social activism. She appeared in Broadway and Off-Broadway plays, including Cabaret for Freedom, which she wrote with Godfrey Cambridge. At the request of Dr. Martin Luther King, Jr., she served as the Northern Coordinator of the Southern Christian Leadership Conference during the height of the civil rights demonstrations. Malcolm X also asked her to work with him upon his return from Mecca. In 1978, she was a National Book Award Judge for Biography and Autobiography.
Angelou has received more than 30 honorary degrees and has been inducted into the Wake Forest University Hall of Fame for Writers. In 2010 President Barack Obama awarded her the Presidential Medal of Freedom, the highest civilian honor in the U.S. She was the 2013 recipient of the Literarian Award, an honorary National Book Award for contributions to the literary community.
View more inductees from the 13th class, inducted in 2019.
for supporting its mission through the California Hall of Fame.