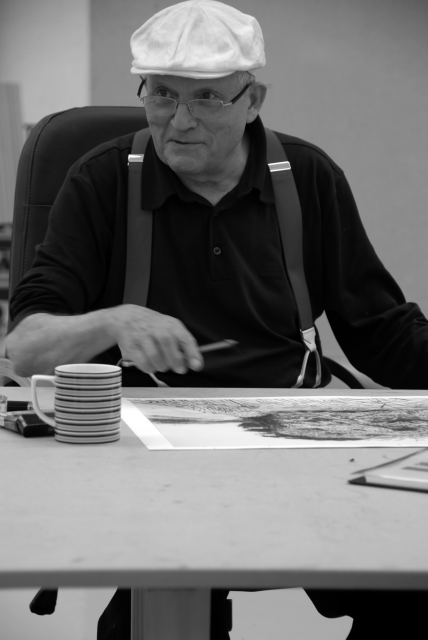 Artist
(b. 1937)
California Connection
Has lived part time in California for over 30 years
Achievements
Biography current as of induction in 2015
Painter, draftsman, printmaker, stage designer and photographer, Hockney is one of the most influential artists of the 20th century.
Born in Bradford, England, Hockney graduated from the Bradford School of Art in 1957 and the Royal College of Art, London, receiving the Gold Medal in 1962. He first visited Los Angeles in 1964 and, inspired by the light and color, began creating stylized, color-saturated paintings of the landscape as well as of swimming pools, which became his earliest successes and one of his favorite subjects.
With a career spanning more than 50 years, Hockney has received numerous honors and awards, including the Order of the Companion of Honour from Her Majesty the Queen in 1997 and the Order of Merit in 2012, as well as honorary degrees from the University of Oxford, Yale University and the University of Cambridge. His 2001 publication "Secret Knowledge: Rediscovering the Lost Techniques of the Old Masters" received critical acclaim and has been published in more than a dozen languages.
His work has been seen around the world in gallery and museum exhibitions, including at San Francisco Museum of Modern Art; Los Angeles County Museum of Art; Metropolitan Museum, New York; Tate Gallery, London; Museum of Fine Arts, Boston; and National Portrait Gallery, London. Most recently, David Hockney: A Bigger Picture, a major exhibition of his landscape paintings, opened at the Royal Academy of Arts, London in 2012 and traveled to Guggenheim Museum Bilbao and to Museum Ludwig, Cologne. "David Hockney: A Bigger Exhibition" opened at the de Young Museum in San Francisco in 2013.
View more inductees from the 9th class, inducted in 2015.
for supporting its mission through the California Hall of Fame.