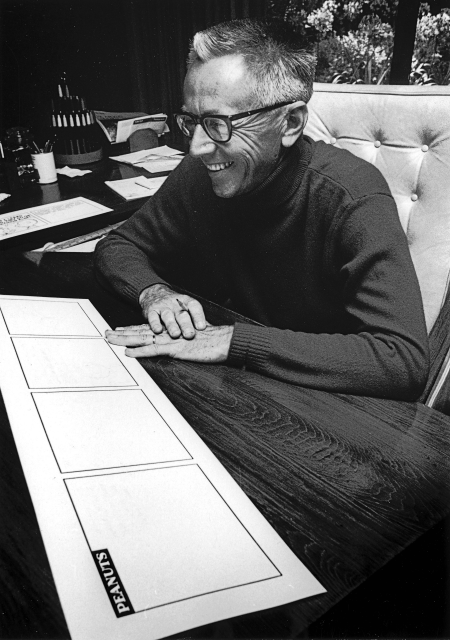 Cartoonist
(1922 – 2000)
California Connection
Lived and worked in California from 1958-2000
Achievements
Biography current as of induction in 2015
Charles M. Schulz, best known for the iconic comic strip Peanuts, was one of the most influential cartoonists of all time, whose innovation continues to inspire cartoonists and fans today.
Schulz's early series of one-panel cartoons, Li'l Folks, was published from 1947 to 1950 in the St. Paul Pioneer Press. Schulz approached United Feature Syndicate with the single-panel series, but they preferred a version in comic strip format. Peanuts made its debut on October 2, 1950 in seven newspapers. The cartoon eventually became one of the most popular comic strips ever created, published in over 2,600 newspapers. At its peak, "Peanuts" was read by more than 355 million people in 75 countries and 21 languages.
Through the use of characters in national ad campaigns, the creation of Emmy-Award winning television specials and the development of books and merchandise, the comic strip grew into a worldwide phenomenon, resulting in Schulz's regular appearance on Forbes magazine's list of highest-paid entertainers in America.
Schulz drew over 17,897 "Peanuts" comic strips in his nearly 50-year career. He was awarded the highest honors by his fellow cartoonists, was recognized by U.S. and foreign governments, had NASA spacecrafts named after his characters, and inspired an Off-Broadway musical and a performance at Carnegie Hall.
Awards & Recognition
Emmy Award winner
Congressional Gold Medal
Hollywood Walk of Fame star
Commander of Arts and Letters
2-time recipient of the Reuben Award for Outstanding Cartoonist of the Year
U.S. Army Combat Infantryman Badge
View more inductees from the 9th class, inducted in 2015.
for supporting its mission through the California Hall of Fame.