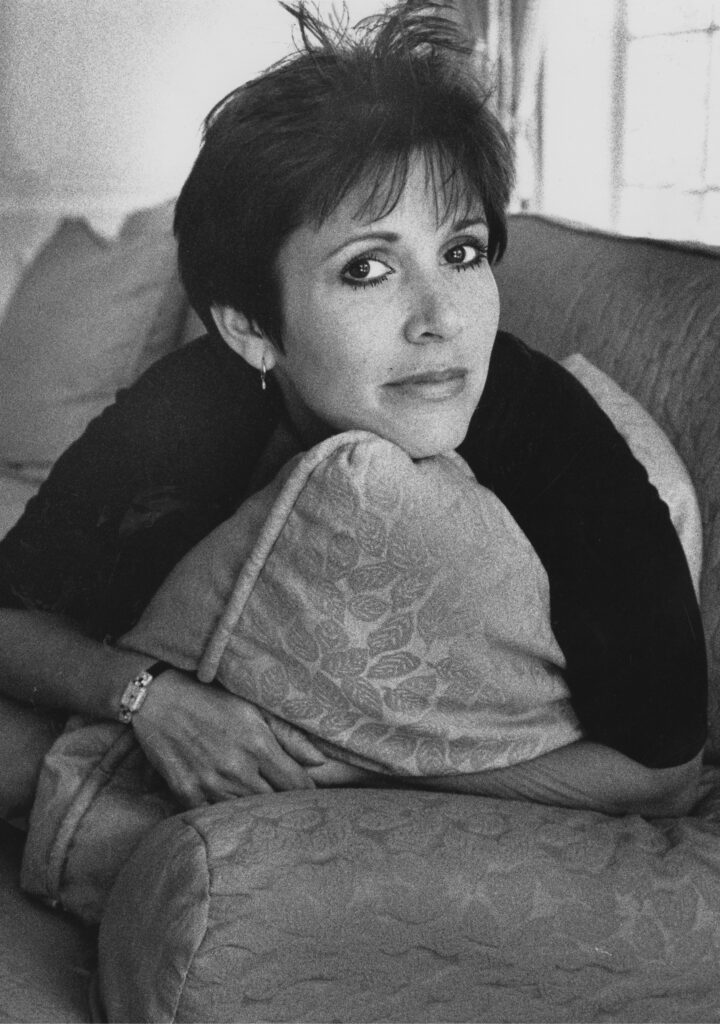 Entertainment
(1956 – 2016)
California Connection
Burbank native and lifelong California resident
Achievements
Biography current as of induction in 2023
Carrie Fisher was an actress, author and screenwriter best known for her indelible portrayal of Princess Leia in the "Star Wars" film franchise. She also earned acclaim for her writing, winning a Best Spoken Word Album Grammy Award for her memoir "The Princess Diarist."
Born to singer Eddie Fisher and actress Debbie Reynolds, Fisher was raised in the world of film, theater and television. Her parents divorced when she was two years old, and as a young girl she was an avid reader, finding solace in poetry and classic literature. At age 16, she made her Broadway debut in the hit revival "Irene," starring her mother. Two years later, she made her first film appearance in "Shampoo" opposite Warren Beatty, bringing a boldness to her small role that put her firmly on Hollywood's radar.
Fisher shot to international fame alongside her "Star Wars" costars Harrison Ford and Mark Hamill in 1977, when George Lucas' science-fiction film became a surprise blockbuster. Fisher went on to appear in five more films in the "Star Wars" franchise, including two released posthumously. Her nervy and independent Princess Leia became part of a merchandising bonanza and continues to inspire generations of fans. Fisher also starred in such hits as "The Blues Brothers," "When Harry Met Sally" and "Hannah and Her Sisters." Her television credits include "Laverne & Shirley," "Sex and the City" and "30 Rock," for which she received an Emmy nomination.
An accomplished writer who often drew from her own experiences, Fisher netted the Los Angeles Pen Award for Best First Novel for her bestselling "Postcards from the Edge." She later wrote the screenplay for the Oscar-nominated film of the same name. Six more novels and memoirs followed, including "Shockaholic"and "Delusions of Grandma." Fisher also was one of Hollywood's top script doctors, polishing the screenplays of other writers from 1991 to 2005. Her autobiographical one-woman show "Wishful Drinking," which she also turned into a memoir, had a successful Broadway run and was filmed for HBO, earning two Emmy nominations in 2011.
A supporter of women's empowerment, animal rights and LGBTQ causes, Fisher was especially vocal about mental health, sharing her own struggles with bipolar disorder and addiction to raise awareness and understanding of these often-taboo issues. She was honored with a star on the Hollywood Walk of Fame in 2023.
View more inductees from the 16th class, inducted in 2023.
for supporting its mission through the California Hall of Fame.