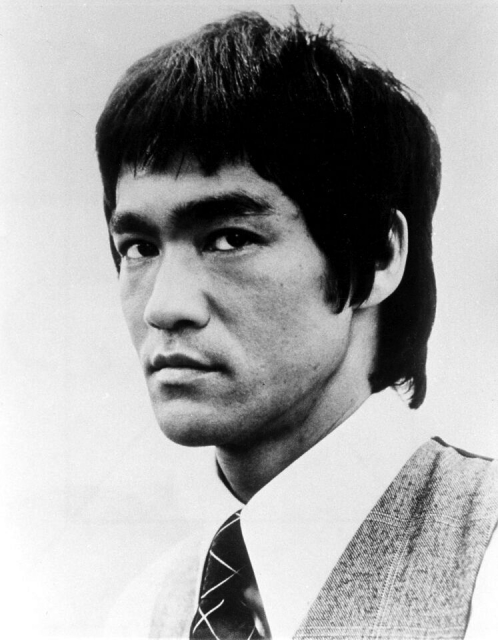 Martial Artist/Actor
(1940 – 1973)
California Connection
Born in San Francisco, CA
Achievements
Biography current as of induction in 2015
Bruce Lee was one of the most influential martial artists of all time. He became an iconic figure known throughout the world when he starred in a series of martial arts films that showcased his incredible physical talents.
Lee was born in San Francisco; his parents were in the city because his father was on tour with the Chinese Opera. Raised in Hong Kong, he began appearing in Chinese films as a child and by the time he was 18 had appeared in 20 films. At 13, he began studying martial arts with Wing Chun Master Yip Man.
Lee moved back to the U.S. in 1959, where he attended college. He supported himself by teaching martial arts at schools he established in Seattle, Oakland and Los Angeles, while he and his wife, Linda, raised their son, Brandon, and daughter, Shannon. Lee quickly began to develop new ideas about martial arts and training based on his experiences, leading him to create his own art called Jeet Kune Do, or "The Way of the Intercepting Fist."
Lee rekindled his acting career in Hollywood with a series of small parts in film and on television, most notably as Kato in the series "The Green Hornet." In 1971, he starred in the first of five legendary martial arts films that were huge financial successes and made him an international star. Lee's life was cut short when he died at age 32 of a cerebral edema caused by an allergic reaction to pain medication, just days before the release of his blockbuster hit "Enter the Dragon" (1973).
Awards/Recognition
Named one of TIME Magazine's 100 Most Important People of the Century
Star on the Hollywood Walk of Fame
Martial Arts Hall of Fame inductee
Hong Kong Film Award for Lifetime Achievement
View more inductees from the 9th class, inducted in 2015.
for supporting its mission through the California Hall of Fame.