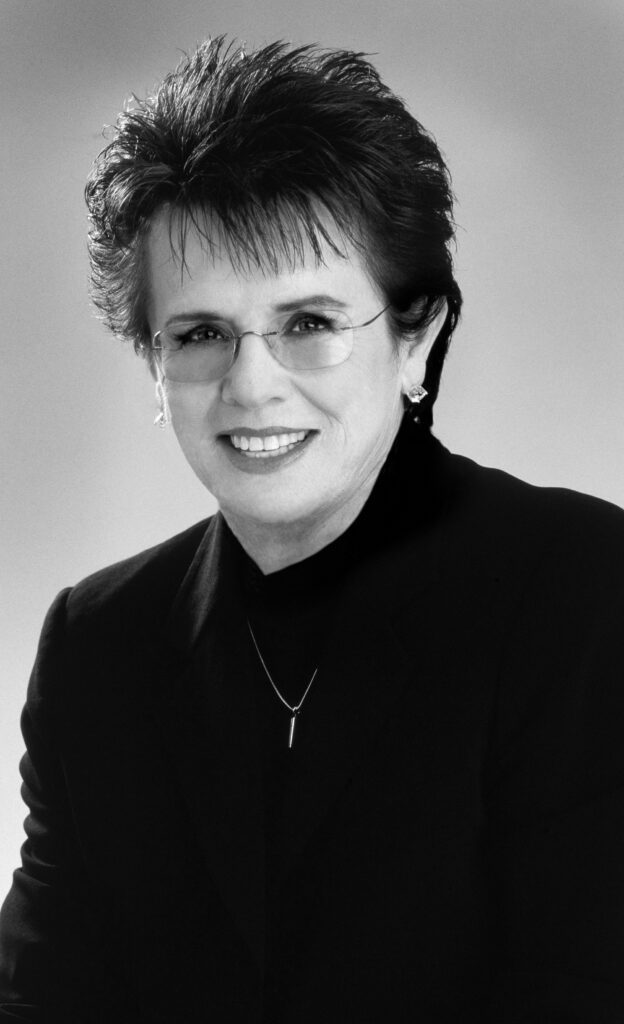 Sports
(b. 1943)
Achievements
Biography current as of induction in 2006
As one of the 20th century's most respected women, Billie Jean King has long been a champion for social change and equality. King created new inroads for women in and out of sports during her legendary career and she continues to make her mark today.
Among her many accomplishments are:
Named "one of the Most Important Americans of the 20th Century" by Life Magazine in 1990.
Won 39 Grand Slam singles, doubles and mixed doubles tennis titles, including a record 20 titles at Wimbledon.
Was one of nine players who broke away from the tennis establishment and accepted $1 contracts from tennis promoter Gladys Heldman in Houston. The revolt led to the birth of women's professional tennis and the formation of the Virginia Slims Tour and Women's Tennis Association.
Empowered women and educated men when she defeated Bobby Riggs in one of the greatest moments in sports history—the Battle of the Sexes in 1973. This match is remembered for its effect on society and its contribution to the women's movement.
Founded the Women's Tennis Association (1973), the Women's Sports Foundation (1974), and Women's Sports Magazine (1974).
Co-founded World TeamTennis (1974), the groundbreaking co-ed professional tennis league and founded the World TeamTennis Recreational League, one of the most popular recreational tennis formats in the U.S.
Ranked No. 5 on Sports Illustrated's "Top 40 Athletes" list for significantly altering or elevating sports the last four decades (1994).
Continues to be a leader in the fight for equality and recognition in the GLBT community, and has been honored by many of the leading GLBT organizations, including GLAAD, Lambda Legal Foundation and the San Francisco GLBT Historical Society.
Honored on August 28, 2006, when the National Tennis Center, home of the U. S. Open, was renamed the USTA Billie Jean King National Tennis Center in honor of King's contributions to tennis, sports and society both on and off the court. She continues to be involved with the USTA and is currently Chair of the Tennis in the Parks committee.
Honored on October 17, 2006, when the National Sports Museum and the Women's Sports Foundation announced that the Billie Jean King International Women's Sports Center, the nation's first permanent, comprehensive museum collection dedicated to women's sports, will be housed at the National Sports Museum when it opens in New York City in 2008.
Serves currently on the boards of the Elton John AIDS Foundation and the Women's Sports Foundation. In 2006 she received several honors including Glamour Magazine's Lifetime Achievement Award, the National Equality Award from the Human Rights Campaign and was one of the inaugural inductees into the California Hall of Fame.
View more inductees from the 1st class, inducted in 2006.
for supporting its mission through the California Hall of Fame.