Andre "Dr. Dre" Young & Jimmy Iovine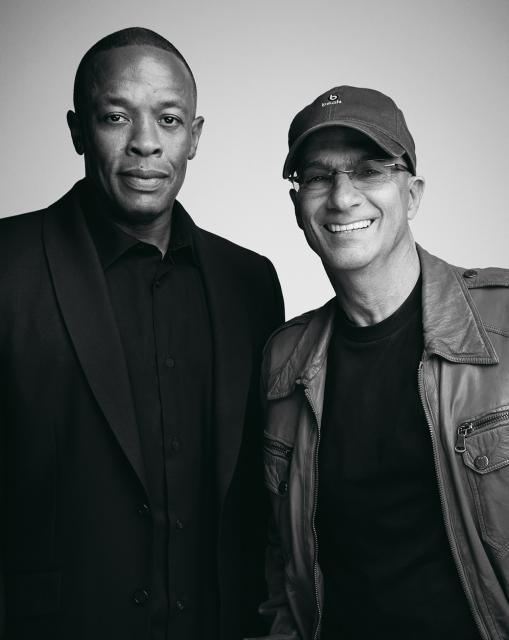 Entertainment
(b. 1965 & 1953)
California Connection
Young was born in Los Angeles; both Young & Iovine reside there
Achievements
Biography current as of induction in 2014
Born Andre Young but better known by his stage name, Dr. Dre changed the world of music as a key figure in one of the most-revolutionary groups of all-time: N.W.A. At the heart of N.W.A was Dr. Dre's innovative production, a dense but funky beatscape that became the foundation of a new genre of music: gangsta rap. Dr. Dre brought hip-hop into the mainstream with his first solo album, which went triple platinum and earned him a Grammy. Dre later discovered and nurtured some of the top rappers, including Snoop Dogg, Eminem, and 50 Cent, becoming the first hip-hop producer to win a Grammy for Producer of The Year.
Jimmy Iovine got his start as a studio go-fer in the 1970s, but quickly made his name as an engineer and producer. In 1990 he co-founded Interscope Records, which became the hottest label of the decade by betting on gangsta rap acts, including Dr. Dre. He was longtime chairman of Universal Music Group's Interscope Records, where he guided the careers of U2 and Eminem.
In 2006, Young and Iovine teamed up to launch the immensely successful Beats Electronics, with its popular "Beats By Dr. Dre" headphone line. The company, which branched out into streaming media with Beats Music, was acquired by Apple in 2014. In 2013 Young and Iovine, neither of whom attended college, donated $70 million to the University of Southern California to establish the USC Jimmy Iovine and Andre Young Academy for Arts, Techology and the Business of Innovation, a new degree program that blends business, marketing, product development, design and liberal arts. Part of the endowment includes full scholarships to help disadvantaged students.
Awards/Recognition
View more inductees from the 8th class, inducted in 2014.
for supporting its mission through the California Hall of Fame.