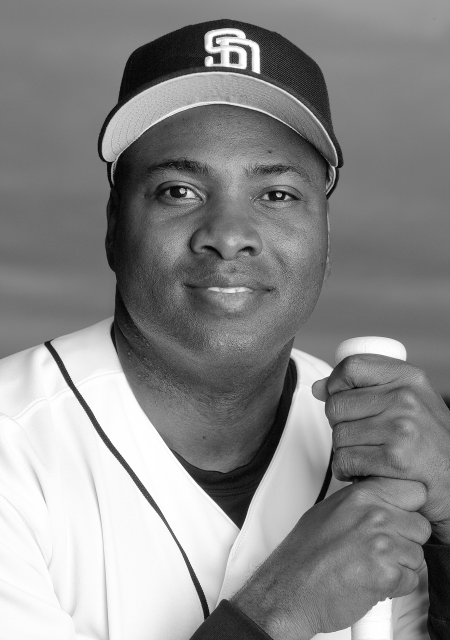 Baseball superstar & MLB Hall of Famer
(1960 – 2014)
California Connection
Native of Long Beach, Calif.
Achievements
Biography current as of induction in 2016
Tony Gwynn was one of the greatest hitters in the history of Major League Baseball. In 20 seasons (1982-2001) with the San Diego Padres, Gwynn won a National League record-tying eight batting titles and was selected to 16 All-Star teams. He was the first-ever unanimous selection to the Padres Hall of Fame, and the team retired his number 19 jersey in 2004.
Gwynn arrived at San Diego State in 1977 as a highly recruited basketball player, and in four seasons, twice was named to the all-Western Athletic Conference team as a point guard. Given a chance to play baseball in 1979, he became a two-time All-American as an outfielder, leading the Aztecs in hitting his final two seasons.
In 1981, Gwynn was drafted by both the Padres and the NBA's San Diego Clippers. After signing with the Padres, he made his Major League debut on July 19, 1982. He retired with a .338 career batting average and 3,141 hits in 2,400 games. The Padres career leader in virtually every offensive category, Gwynn retired 17th on the all-time Major League hit list, 17th on the doubles list and 8th on the all-time singles list.
Only the 17th player in history to spend his entire career of 20+ seasons with one club, his loyalty to the San Diego Padres and his devotion to the San Diego community earned him the title "Mr. Padre." After his retirement in 2001, he became head baseball coach for San Diego State University. As committed to his community as to baseball, he and his wife founded the Tony and Alicia Gwynn Foundation, which provides programs for underserved children.
Selected Awards/Recognition
National Baseball Hall of Fame
Roberto Clemente Man of the Year Award
Lou Gehrig Memorial Award
Branch Rickey Award
View more inductees from the 10th class, inducted in 2016.
for supporting its mission through the California Hall of Fame.