Phyllis Lyon & Del Martin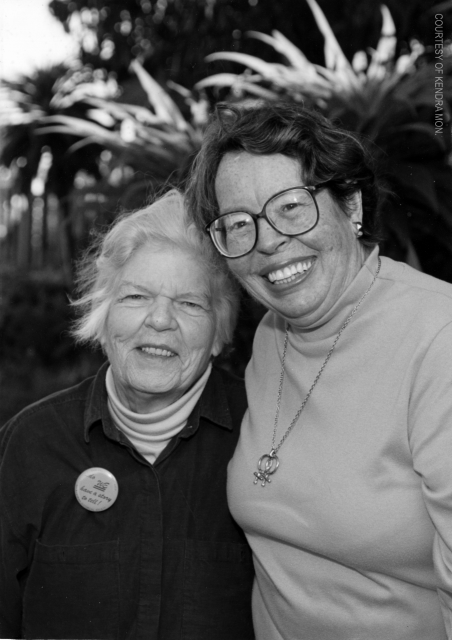 Public Service
(1924-2020 & 1921-2008)
California Connection
Lived in San Francisco from 1953 until their deaths.
Achievements
Biography current as of induction in 2021
Phyllis Lyon and Dorothy "Del" Martin spent decades advancing civil rights and equality as leaders and pioneers of the LGBTQ+ and women's rights movements
Lyon and Martin met in Seattle and fell in love while working together as journalists in the early 1950s. They moved to San Francisco in 1953, where they launched the country's first nationwide lesbian organization, Daughters of Bilitis (DOB), from their home in 1955. The next year they founded The Ladder, the first nationally distributed lesbian publication, editing it from their kitchen table until 1962.
In the early 1960s, the couple became leaders in the fight to decriminalize homosexuality. With supporters in the religious community, they formed the Council on Religion and the Homosexual. Lyon founded the National Sex and Drug Forum with Glide Urban Center's pastor and was one of the founding faculty members of The Institute for Advanced Study of Human Sexuality.
When Lyon and Martin joined the National Organization for Women (NOW), they insisted on the couple's rate, then only offered to heterosexuals. Throughout their involvement with NOW, they fought for lesbian recognition, and Martin became the first out lesbian woman elected to NOW's board of directors. In the 1970s, they participated in the campaign that led the American Psychiatric Association to declare that homosexuality was not a mental illness. Lyon chaired San Franciscans Against Proposition 6 (the Briggs Initiative) in 1978, helping defeat the initiative to ban gay and lesbian teachers from California schools. In their last decades, they worked with Old Lesbians Organizing for Change and served as delegates to the White House Conference on Aging.
On February 12, 2004, after then-San Francisco Mayor Gavin Newsom began issuing marriage licenses to same-sex couples, Martin and Lyon became the first such couple to officially marry in the U.S. However, the California Supreme Court invalidated their marriage a month later. Then, in June 2008, the same court declared same-sex marriages legal. With Mayor Newsom presiding, Martin and Lyon married again in California's first legal same-sex union.
Awards/Recognition (partial list)
American Civil Liberties Union Foundation of Northern California Earl Warren Civil Liberties Award, 1990
The Stonewall Inn National LGBTQ Wall of Honor, 2019/2020
View more inductees from the 14th class, inducted in 2021.
for supporting its mission through the California Hall of Fame.