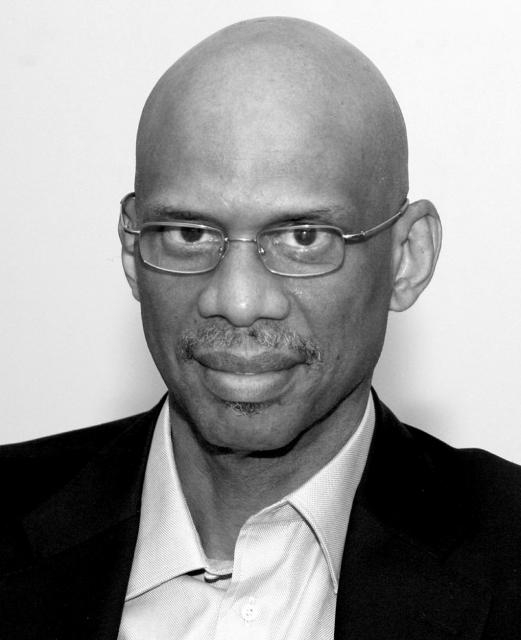 Sports
(b. 1947)
California Connection
Attended UCLA; played for Lakers from 1975-1989; lives in Los Angeles
Achievements
Biography current as of induction in 2014
At the time he retired, no NBA player had ever scored more points, blocked more shots, won more MVP Awards, or played in more All-Star Games than Kareem Abdul Jabbar.
Born Ferdinand Lewis Alcindor Jr., he played for John Wooden's Bruins at UCLA, where he was named outstanding player in the NCAA Tournament in 1967, 1968 and 1969. First pick in the 1969 NBA draft, he was Rookie of the Year. With him at center, the Milwaukee Bucks won the championship the next year, and led the division for four straight seasons. In 1975 he joined the last-place Los Angeles Lakers, and started a turnaround that took them to the conference finals the next season. Abdul-Jabbar and Magic Johnson teamed up to make the Lakers one of the most dominant teams of the 1980s, appearing in the finals eight times and winning five championships. On April 5, 1984, with his trademark skyhook, Abdul-Jabbar scored career point 31,420, passing Wilt Chamberlain as the NBA's all-time leading scorer. He retired in 1989 with 38,387 points, a record that has never been matched.
Abdul-Jabbar has written several books, worked as a coach and broadcaster, fought hunger and illiteracy, and served as a U.S. global cultural ambassador.
Awards/Recognition
6-time NBA MVP and 2-time NBA Finals MVP
19-time NBA All-Star
View more inductees from the 8th class, inducted in 2014.
for supporting its mission through the California Hall of Fame.