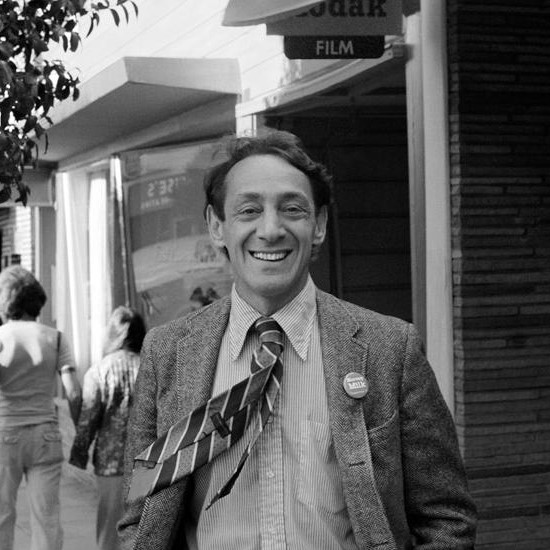 Public Service
(1930 – 1978)
Achievements
Biography current as of induction in 2009
The first openly gay person elected to a significant public office in the United States, Harvey Milk put the dream of equal rights within reach for all.
Milk encouraged lesbian, gay, bisexual, and transgender (LGBT) citizens to live their lives openly, believing that was the only way they could achieve social equality.
A 2009 White House press release recognized his contributions, stating, "Milk is revered nationally and globally as a pioneer of the LGBT civil rights movement for his exceptional leadership and dedication to equal rights."
Milk was born into a Jewish family in New York, and after serving in the US Navy and earning a degree in education, he pursued various career paths, including teaching school and co-producing several Broadway shows. In 1972, he moved to San Francisco, where he took on a leadership role by organizing a merchants association, getting involved in local issues, and running – at first unsuccessfully – for public office. Honing his image with each campaign, capitalizing on the growth of the LGBT community, and connecting for the first time the diverse populations of the city, he won election to the city Board of Supervisors in 1977.
In his eight months in office, Milk achieved the enactment of California's first ordinance barring discrimination on the basis of sexual orientation, which was then the most progressive law in the nation. He then co-chaired the "No on 6" campaign, in which he built bridges of solidarity across all political and cultural divides to soundly defeat a proposition that would have prohibited any LGBT person from teaching in California schools.
Milk's promising career ended abruptly on November 27, 1978 when he and Mayor George Moscone were assassinated in City Hall. Since his death, Milk has become perhaps the most iconic figure of the LGBT rights movement, the subject of books, plays, operas and films, and the namesake of schools and buildings nationwide. In 2009, his nephew accepted the Presidential Medal of Freedom on his behalf from President Barack Obama, who commented that Milk's "message of hope – hope unashamed, hope unafraid" would continue to inspire.
View more inductees from the 4th class, inducted in 2009.
for supporting its mission through the California Hall of Fame.