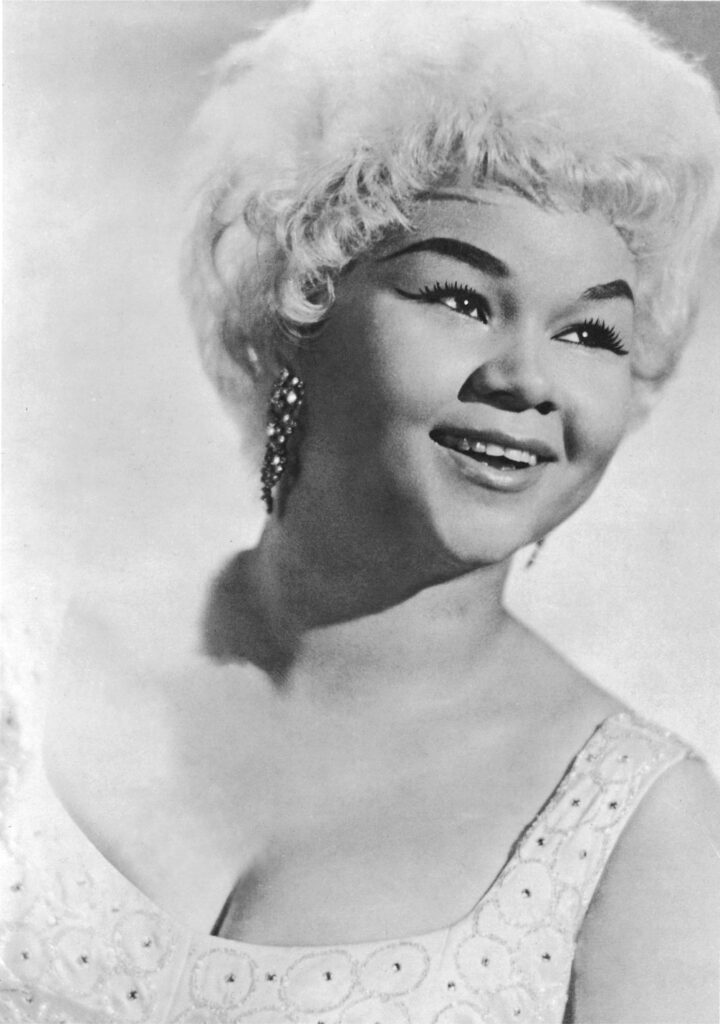 Music
1938-2012
California Connection
Los Angeles native and longtime Riverside resident
Achievements
Biography current as of induction in 2023
In a career that spanned six decades, Etta James sang in a variety of genres, notching over 30 R&B hits, thrilling audiences with her energetic live shows and earning a place in the Rock and Roll Hall of Fame. However, despite possessing one of the most powerful voices in music, she only belatedly gained the attention of mainstream audiences and appeared rarely on the pop charts.
Born Jamesetta Hawkins to a mother who was just 14 years old, James never knew her father and was raised by foster parents. She began singing with St. Paul Baptist Church's gospel choir at age five, becoming a soloist and frequently appearing with them on local radio broadcasts.
At age 12, she moved to live with her mother in San Francisco, where she formed a singing group with two friends. The girls attracted the attention of bandleader and talent scout Johnny Otis, and when he heard their song "Roll with Me Henry," he got them signed to a record contract and suggested Jamesetta change her name to Etta James. Their song made it to No. 2 on the R&B charts in 1954; to James' dismay, a cover version by white singer Georgia Gibbs reached No. 1 on the pop charts the following year. After charting with a second R&B hit, James left the group and stepped out on her own.
James' solo career took off in 1960 when she signed with Chess Records. Singing in a style that fused the passion of R&B with the polish of jazz, she became the label's first major female star, scoring a string of hits including "All I Could Do Was Cry," "Trust in Me" and "At Last." Her career faltered in the mid-1960s due to struggles with drug addiction, but she bounced back onto the R&B charts in 1967 with "Tell Mama" and "I'd Rather Go Blind." She continued to record with Chess into the 1970s.
In the late 1970s, she opened for the Rolling Stones on tour and signed with Warner Bros., cutting the album "Deep in the Night." While the album didn't sell well, it received enthusiastic reviews and reminded serious blues and R&B fans that James was still a force to be reckoned with. She continued playing live shows into the 2000s and released her final album just a year before her death.
James was recognized with four Grammy Awards, including one in 2003 for lifetime achievement, as well as induction into the Rock and Roll Hall of Fame, the Blues Hall of Fame and the Grammy Hall of Fame. Her iconic 1961 recording "At Last" was included in the Grammy Hall of Fame in 1999 added to the National Recording Registry at the Library of Congress in 2008. Her autobiography, "Rage to Survive: The Etta James Story," was published in 1995.
View more inductees from the 16th class, inducted in 2023.
for supporting its mission through the California Hall of Fame.