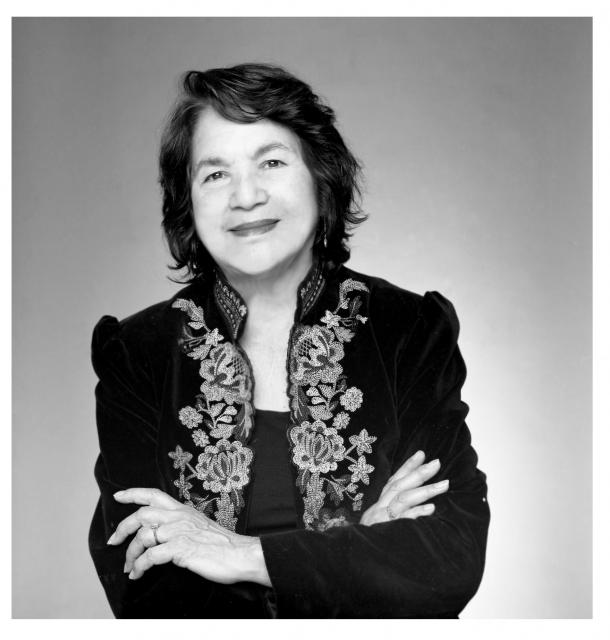 Public Service
(B. 1930)
California Connection
Raised in Stockton, CA; has lived and worked in California ever since
Achievements
Biography current as of induction in 2013
One of the most famous Latinas in the Unites States, Dolores Huerta has played a major role in the American civil rights movement as a community organizer and social activist for over 50 years. She is perhaps most widely known as co-founder of the United Farm Workers (UFW).
A staunch advocate for women's rights and reproductive freedom, Huerta is a founding board member of the Feminist Majority Foundation and serves on the board of Ms. Magazine. She is a former UC Regent and has earned nine honorary doctorates from universities throughout the country. She frequently speaks at universities and organizational forums on issues of social justice and public policy. She continues working to develop community leaders and advocating for the working poor, immigrants, women and youth as President of the Dolores Huerta Foundation.
Selected Awards/Recognition
Presidential Medal of Freedom
U. S. Department of Labor Hall of Honor
Smithsonian Institution – James Smithson Award
National Women's Hall of Fame
American Civil Liberties Union (ACLU) Roger Baldwin Medal of Liberty Award
The Eugene V. Debs Foundation Outstanding American Award
The Ellis Island Medal of Freedom Award
Icons of the American Civil Rights Movement Award
View more inductees from the 7th class, inducted in 2013.
for supporting its mission through the California Hall of Fame.