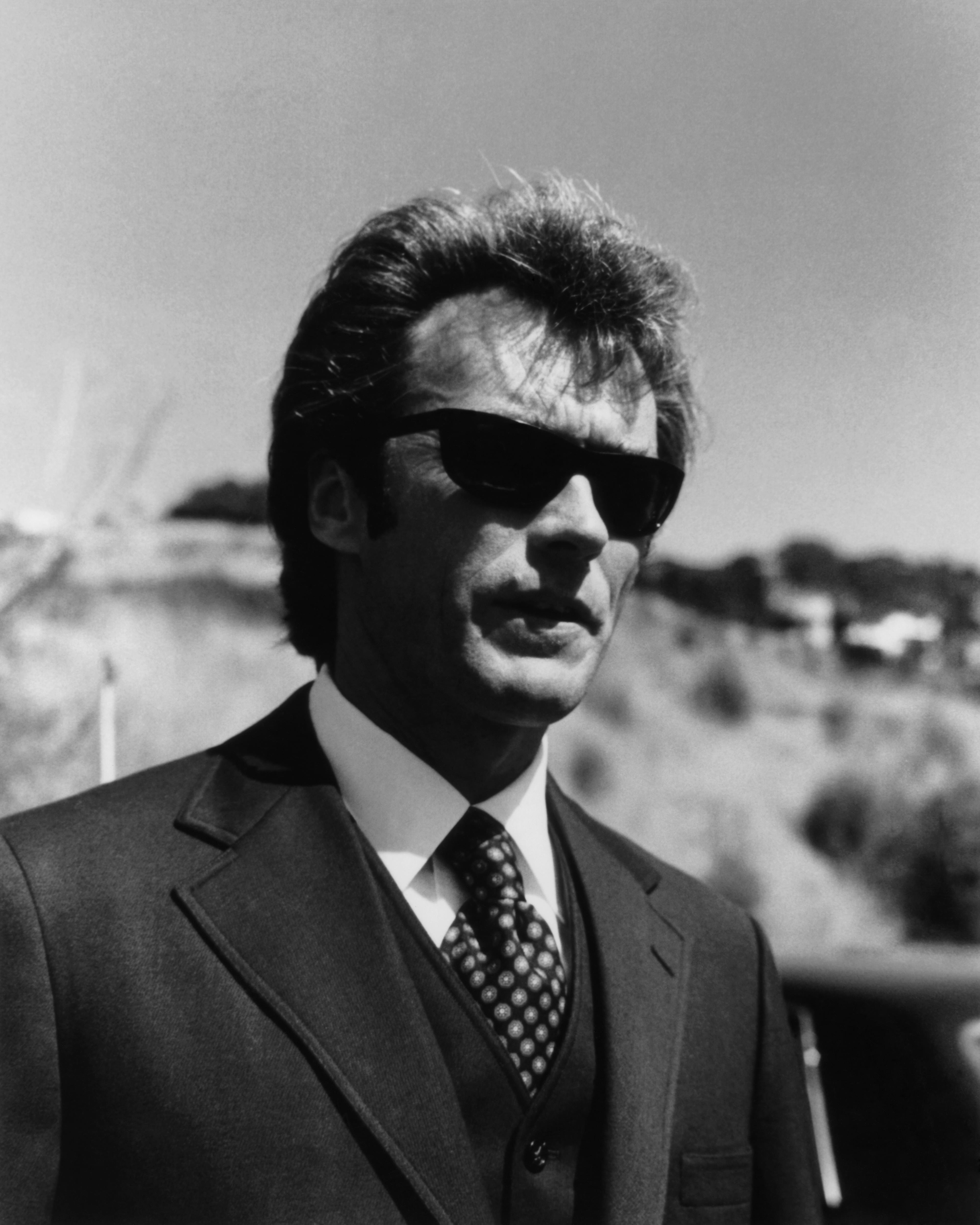 Entertainment
(b. 1930)
Achievements
Biography current as of induction in 2006
Clint Eastwood is the consummate filmmaker. His career spans four decades and has touched generations of moviegoers. He is one of the most prolific, versatile artists in the history of the medium, involving himself first as an actor, then as a director and producer. Eastwood's remarkable achievements have been fueled by his enormous box-office appeal and likewise reflected in the recognition he has received. His respect within the film industry is matched only by his appreciation from the public at large. His ongoing body of work is without peer.
Clint Eastwood is a film icon.
Consider the following data, applied as it is to a man whose debut in film was as a contract actor for Universal Pictures in 1955. From this inauspicious beginning, Clint Eastwood's credits have carried him beyond the new millennium. He has starred in 46 films (appearing in 57), directed 25, and produced 20. Eastwood is unique in that he will often combine responsibilities, simultaneously producing, directing and starring. This he has done 13 times, while he has directed and starred in an additional nine films and served as producer, in a variety of directing and acting combinations, on 18 films.
In March of 2003, he accepted a Screen Actors Guild Life Achievement Award, and in August of the same year the Henry Mancini Institute presented Eastwood with the Hank Award, which recognizes distinguished service to American music. In January of 2000, Eastwood was presented with a Lifetime Career Achievement Award from New York's National Board of Review. That May he received an Honorary Doctorate in Fine Arts from Wesleyan University, and in December accepted a Kennedy Center Honors Award. He was also nominated for Favorite All-Time Movie Star in 1999 from the People's Choice Awards (which he won for the Favorite Motion Picture Actor in 1981, 1984, 1985, 1987 and 1998).
In addition, Eastwood received a Cesar Honorary Award (Honneur) from the French Film Society for Career Achievement in 1998 and a Golden Laurel Lifetime Achievement Award from the Producers Guild of America that same year. He was also the recipient of the Life Achievement Award from the American Film Institute and the Film Society at Lincoln Center in 1996, and he was given the prestigious Irving G. Thalberg Memorial Award in 1995 from the Academy of Motion Pictures Arts and Sciences.
In 2004, Eastwood's critically acclaimed drama Million Dollar Baby earned seven Academy Award nominations (Best Picture, Best Director, Best Actor, Best Actress, Best Supporting Actor, Best Screenplay and Best Editor) and won four Oscars. Along with Eastwood's Oscar wins for Best Director and Best Motion Picture, Hilary Swank's performance earned her a Best Actress Award and Morgan Freeman won the Oscar for Best Supporting Actor. Million Dollar Baby also won the Director's Guild Award, Golden Globe Awards for Best Director and Best Actress and the New York Film Critics Award for Best Director. The National Board of Review presented Eastwood with an award for Special Filmmaking Achievement for Producing, Directing, Acting and Scoring.
In 2003, Mystic River debuted at the Cannes Film Festival, earning Eastwood a Golden Palm nomination and the Golden Coach Award. Mystic River went on to win six Academy Award nominations (Best Picture, Best Director, Best Actor, Best Supporting Actor, Best Supporting Actress and Best Screenplay) and two Oscars (Best Actor and Best Supporting Actor). The National Board of Review named Mystic River the Best Film of 2003.
Eastwood's 1993 foreboding, revisionist western, Unforgiven, won nine Academy Award nominations (Best Picture, Best Director, Best Actor, Best Supporting Actor, Best Screenplay, Best Cinematography, Best Production Design, Best Editor and Best Sound) and four Oscars (Best Picture, Best Director, Best Supporting Actor and Best Editor). That same year, Unforgiven also won the Director's Guild Award, a Golden Globe for Best Director, the National Society of Film Critics Award for Best Picture, Best Director, Best Supporting Actor and Best Screenplay, and the New York Film Critics Award for Best Supporting Actor. The film also received nominations for Best Direction and Best Film from the British Academy of Film and Television Arts and the ShoWest Award for Director of the Year from the National Association of Theater Owners (which also gave Eastwood the Male Star of the Decade Award in 1982).
No less impressive are Eastwood's Cesar nomination for Best Foreign Film (Meilleur film etranger) for The Bridges of Madison Country in 1996, a Douglas Sirk award for Career Achievement, Awards from both the American Cinema Editors and the Publicists Guild in 1992, the California Governor's Award for the Arts in 1992, and the Man of the Year Award from Harvard's Hasty Pudding Theatrical Society in 1991.
No stranger to Cannes, Eastwood served as president of the jury in 1994 and has been given Best Picture Golden Palm nominations for White Hunter, Black Heart in 1990, Bird in 1988 (which won for Best Actor and Best Sound), and Pale Rider in 1985. He has also won a Best Director Golden Globe for Bird in 1989, a Hollywood Foreign Press Cecil B. DeMille Career Achievement award in 1988, and a Golden Globe for Male World Film Favorite in 1971.
A long standing relationship has also existed between Eastwood and the Museum of Modern Art in New York, whose film archivists presented the first Honorary Retrospective of his work in 1980 and then expanded the program in 1993 for a second tribute. This was followed by similar events on behalf of the French Cinematheque in 1985, the Walker Art Center of Minneapolis in 1990, and the British Film Institute, which made Eastwood a fellow in 1992.
All of the recognition is grounded in the fact that Clint Eastwood is a film star of the first magnitude. When considering his career, it is impossible to ignore his diversity and the ease with which he is able to move from actor to director to producer. Eastwood is alone in this regard, if not for the process, then simply for his incredible productivity and box-office results.
Throughout his career, Eastwood has played the triple role of actor, director and producer in the films Million Dollar Baby (2004), Blood Work (2002), Space Cowboys (2000), True Crime (1998), Absolute Power (1996), The Bridges of Madison County (1995), Unforgiven (1992), White Hunter, Black Heart (1989), Heartbreak Ridge (1987), Pale Rider (1985), Sudden Impact (1983), Honkytonk Man (1982), and Firefox (1982).
The films in which Eastwood has starred while directing include A Perfect World (1983), The Rookie (1990), Bronco Billy (1980), The Gauntlet (1977), The Outlaw Josey Wales (1976), The Eiger Sanction (1975), High Plains Drifter (1973), and Play Misty For Me (1971).
There are twenty-four films in which Eastwood starred as an actor and did not direct. These films include In the Line of Fire (1993), Pink Cadillac (1989), The Dead Pool (1988), City Heat (1984), Tightrope (1984), Any Which Way You Can (1980), Escape from Alcatraz (1979), Every Which Way But Loose (1978), The Enforcer (1976), Thunderbolt and Lightfoot (1974), Magnum Force (1973), Joe Kidd (1972), Dirty Harry (1971), The Beguiled (1971), Two Mules for Sister Sarah (1970), Kelly's Heroes (1970), Paint Your Wagon (1969), Where Eagles Dare (1969), Coogan's Bluff (1968), Hang 'Em High (1968), The Witches (1967), The Good, the Bad and the Ugly (1966), For a Few Dollars More (1965) and A Fistful of Dollars (1964).
At the outset of his career, Eastwood appeared in eleven films as a contract player for Universal Pictures, including Lafayette Escadrille (1957), Ambush at Cimarron Pass (1957), Escapade in Japan (1957), Star in the Dust (1956), The First Traveling Saleslady (1956), Away All Boats (1956), Never Say Goodbye (1956), Tarantula (1955), Lady Godiva (1955), Francis in the Navy (1955) and Revenge of the Creature (1955).
Eastwood got his first break on the TV series Rawhide (1958), in which he played cowpuncher Rowdy Yates for six years. During this time he made four television guest appearances on TV shows such as West Point (1957), Highway Patrol (1958), Maverick (1959) and Mister Ed (1962). Interestingly, Eastwood did not return to television until 1985, when he directed a segment for Steven Spielberg's Amazing Stories series, titled Vanessa in the Garden.
As a director and producer, without participation as an actor, Eastwood made Mystic River (2003), Midnight in the Garden of Good and Evil (1996) and Bird (1988). Working only as a director, he made Breezy (1973) and then, working as a producer while starring, he made Tightrope (1984). Eastwood produced three films in which he neither acted nor directed: The Last of the Blue Devils (1987), Thelonious Monk: Straight, No Chaser (1989) and The Stars Fell on Henrietta (1995).
Eastwood's association with jazz is well documented, as is his assertion that had his acting, directing or producing careers not been successful, he would have chosen to be a musician. As a young man growing up in Oakland, California, Eastwood performed in small clubs as a pianist. Some of his most inspiring moments of that era came watching jazz greats like Charlie Parker perform live. Thus Bird included original remixed Parker cuts, orchestrated by composer Lennie Niehaus, as well as original copies of Eastwood's own treasured issues of Downbeat magazine.
Play Misty for Me marked Eastwood's directing debut and was characterized by the romantic theme of First Time Ever I Saw Your Face, selected by Eastwood and sung by the then-unknown Roberta Flack. Likewise, Misty, the film's theme song, was arranged by jazz legend Erroll Garner.
Notably, all of the five classic Dirty Harry films featured big-city jazz soundtracks. Lalo Schifrin composed Dirty Harry, Magnum Force, Sudden Impact and The Gauntlet, as well as Escape from Alcatraz.
Successful soundtrack albums have been a consistent Eastwood signature to his films, be they jazz-oriented (Bird, The Bridges of Madison County, Midnight in the Garden of Good and Evil, and the multi-film reference for Clint Eastwood Live At Carnegie Hall) or country (Every Which Way But Loose, Bronco Billy, Any Which Way You Can, and Honkytonk Man). Moreover, in two particular instances, again working with composer Lennie Niehaus, Eastwood wrote the key melody for both Unforgiven (Claudia's Theme) and The Bridges of Madison County (Doe Eyes). Eastwood also composed the score for Million Dollar Baby and Mystic River, which was recorded with Niehaus conducting the Boston Symphony Orchestra and the Tanglewood Festival Chorus.
Eastwood's documentary Piano Blues, produced by Bruce Ricker, concluded Martin Scorsese's 2003 series The Blues for PBS. In the film, Eastwood explores his life-long passion for Piano Blues, using rare footage of Art Tatum and Professor Longhair with new interviews and performances by Ray Charles, Pinetop Perkins, Dave Brubeck, Marcia Ball, Jay McShann, Dr. John and Pete Jolly.
An avid golfer, Eastwood lives in Carmel, California, where he served as Mayor from 1986 through 1988, and where he owns the picturesque Mission Ranch Inn and Tehama Golf Club. He is also a partner in the famed Pebble Beach Golf Course and was appointed to the California State Park and Recreation Commission, where he currently serves as Vice Chair, in November 2001. Eastwood serves as a Commissioner on the California Film Commission, appointed by Gov. Arnold Schwarzenegger, and has been named, for the second time, to serve as the national spokesperson for Take Pride in America.
Born Clinton Eastwood Jr. on May 31, 1930, in San Francisco, California, he was raised in Oakland, California, after moving from town to town as his father sought work during the Great Depression. This experience left an indelible mark on him, as he freely admits, helping to formulate his value system and his work ethic.
Clint Eastwood is, perhaps, the most conscientious filmmaker who ever got behind a camera. He has no patience for waste, be it time or money. He makes movies, loves the process, and start to finish, each day and each dollar belongs to him. When not in production, he lives quietly with his wife Dina Ruiz Eastwood (married March 31, 1996) and their daughter Morgan (born December 12, 1996) in Carmel.
View more inductees from the 1st class, inducted in 2006.
for supporting its mission through the California Hall of Fame.