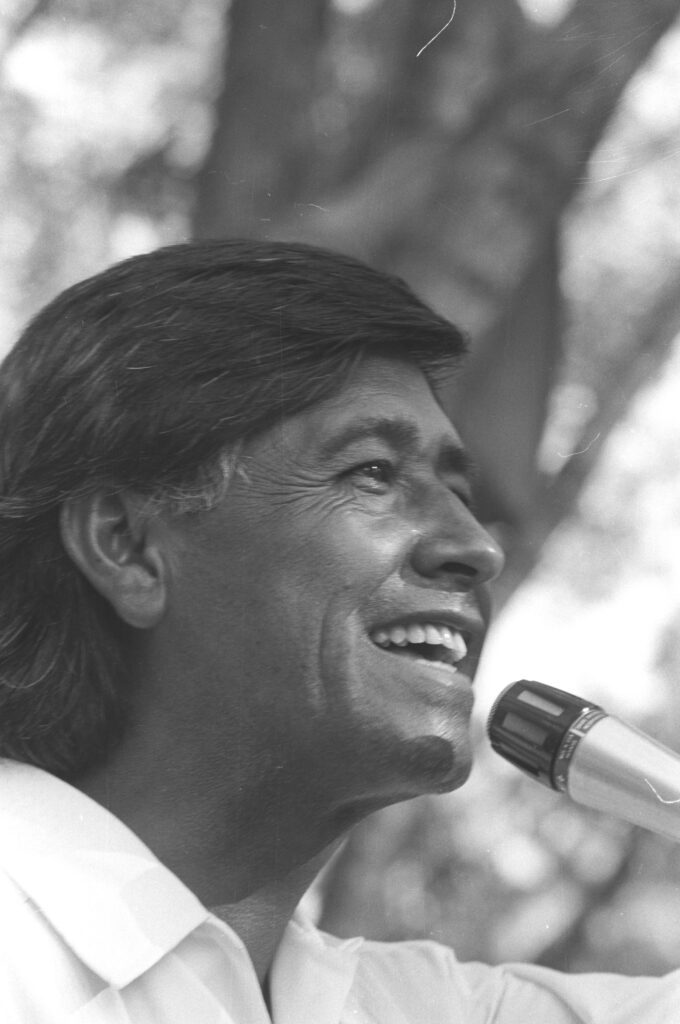 Public Service
(1927 – 1993)
Achievements
Biography current as of induction in 2006
César Estrada Chávez, Senator Robert F. Kennedy noted, was "one of the heroic figures of our time."
A true American hero, Chávez was a civil rights, Latino, farm worker, and labor leader; a religious and spiritual figure; a community servant and social entrepreneur; a crusader for nonviolent social change; and an environmentalist and consumer advocate.
A second-generation American, Chávez was born on March 31, 1927, near his family's farm in Yuma, Arizona. At age 10, his family became migrant farm workers after losing their farm in the Great Depression.
Throughout his youth and into his adulthood, he migrated across the southwest laboring in the fields and vineyards, where he was exposed to the hardships and injustices of farm worker life.
After achieving only an eighth-grade education, Chávez left school to work in the fields full-time to support his family. He attended more than 30 elementary and middle schools. Although his formal education ended then, he possessed an insatiable intellectual curiosity, and was self-taught in many fields and well read throughout his life.
Chávez joined the US Navy in 1946, and served in the Western Pacific in the aftermath of World War II. He returned from service to marry Helen Fabela, whom he had met working in the vineyards of central California. The Chávez family settled in the East San Jose barrio of Sal Si Puedes (get out if you can), and would eventually have eight children and thirty-one grandchildren.
Chávez's life as a community organizer began in 1952 when he joined the Community Service Organization (CSO), a prominent Latino civil rights group. While with the CSO, he coordinated voter registration drives and conducted campaigns against racial and economic discrimination primarily in urban areas. In the late 1950s and early 1960s, he served as CSO's national director.
Chávez's dream, however, was to create an organization to protect and serve farm workers, whose poverty and disenfranchisement he had shared. In 1962, Cesar resigned from the CSO, leaving the security of a regular paycheck to found the National Farm Workers Association, which later became the United Farm Workers of America.
For more than three decades Chávez led the first successful farm workers union in American history, achieving dignity, respect, fair wages, medical coverage, pension benefits, and humane living conditions, as well as countless other rights and protections for hundreds of thousands of farm workers. Against previously insurmountable odds, he led successful strikes and boycotts that resulted in the first industry-wide labor contracts in the history of American agriculture. His union's efforts brought about the passage of the groundbreaking 1975 California Agricultural Labor Relations Act to protect farm workers. Today, it remains the only law in the nation that protects the farm workers' right to unionize.

The significance and impact of Chávez's life transcends any one cause or struggle. He was a unique and humble leader, in addition to being a great humanitarian and communicator who influenced and inspired millions of Americans to seek social justice and civil rights for the poor and disenfranchised in our society. He forged a diverse and extraordinary national coalition of students, middle class consumers, trade unionists, religious groups, and minorities.
A strong believer in the principles of nonviolence practiced by Mahatma Gandhi and Dr. Martin Luther King, Jr., Chávez effectively employed peaceful tactics such as fasts, boycotts, strikes, and pilgrimages. In 1968 he fasted for 25 days to affirm his personal commitment and that of the farm labor movement to non-violence. He fasted again for 25 days in 1972, and in 1988, at the age of 61, he endured a 36-day "Fast for Life" to highlight the harmful impact of pesticides on farm workers and their children.
Chávez passed away in his sleep on April 23, 1993, in San Luis, Arizona, only miles from his birthplace of 66 years earlier. More than 50,000 people attended his funeral services in the small town of Delano, California, the same community in which he had planted his seed for social justice only decades before.
Chávez's life cannot be measured in material terms. He never earned more than $6,000 a year. He never owned a house. When he passed, he had no savings to leave to his family.
His motto in life – "sí se puede" (it can be done) – embodies the uncommon and invaluable legacy he left for the world's benefit. Since his death, dozens of communities across the nation have renamed schools, parks, streets, libraries, other public facilities, awards and scholarships in his honor, as well as enacting holidays on his birthday, March 31. In 1994 he was posthumously awarded the Presidential Medal of Freedom, the highest civilian honor in America.
César Chávez – a common man with an uncommon vision for humankind – stood for equality, justice, and dignity for all Americans. His ecumenical principles remain relevant and inspiring today for all people.
In 1993, his family and friends established the César E. Chávez Foundation to educate people about the life and work of this great American civil rights leader, and to engage all, particularly youth, to carry on his values and timeless vision for a better world.
View more inductees from the 1st class, inducted in 2006.
for supporting its mission through the California Hall of Fame.